Antonio Conte recently signed a contract to manage Tottenham Hotspur until June 2023, replacing Nuno Espirito Santo after a woeful four-month spell at the helm.
With Conte leading Bari and Siena to promotion from Serie B, before winning consecutive league titles with Juventus, the Premier League and FA Cup with Chelsea, and Internazionale's first Serie A title in 11 years; expectations are high for further success at Spurs.
But Tottenham have gone 13 years without winning a title, the EFL Cup being their only silverware of the current millennium, having seen Mauricio Pochettino come so close and Conte becoming Spurs' fourth manager of the calendar year, many observers of the club are sceptical.
So, what should we expect to see of Tottenham under Conte, and will it be what they need to take the next step to silverware?
Playing formation: 3-5-2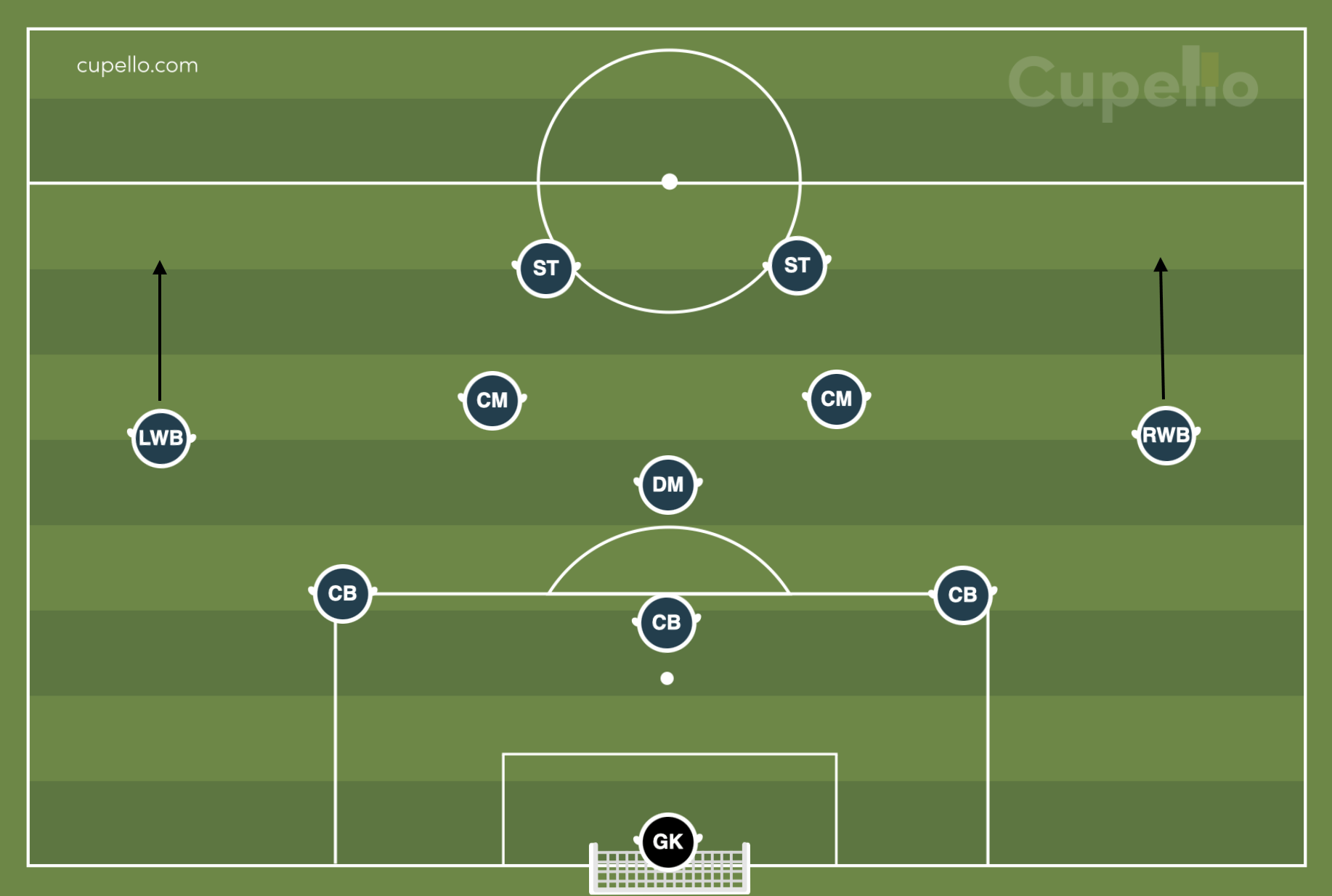 Conte is a firm believer in three at the back, creating a strong, robust, and reliable defensive unit as a base for the success of his team.
He famously transformed Chelsea using this system after a tragic performance against Arsenal and never looked back. From his time at Juventus, he has relied on three solid centre backs who may not be the quickest but are extremely reliable; whether that be Chiellini, Bonucci and Barzagli at Juve; Cahill, Luiz and Azpilicueta at Chelsea; or Bastoni, De Vrij and Skriniar at Inter.
Three midfielders usually sit in front: one defensive, one box-to-box and one playmaker. These players either mop up play, protect their defence, or gather the ball and look to push play forward.
Width therefore is provided by wingbacks who must be willing to push extremely far forward, regularly finding themselves in key attacking areas before having to track back and create a back five in a defensive block.
These players will also provide crosses for two strikers, one of which will be a big figure up top, as shown by his previous use of Lukaku, Diego Costa and Llorente, who are supported by a more agile attacking presence. 
Spurs playing style

It is therefore likely that Spurs under Conte will adopt a similar style, using Romero, Dier and Sanchez as a back three with Reguilon and Emerson Royal pushing forward as wing backs. Conte will expect Kane to stay at the top of the pitch and encourage Son to play off of him, going against Kane's instinct to wander deeper for the ball, but recreating the success of Martinez and Lukaku at Inter.
Unexpected Starters
Although a back three is expected in a likely 3-5-2 or a variation of it, the line-up is hard to predict under Conte. Having previously reinvigorated the careers of some surprising players under his reigns.
Nobody expected ex-Bolton defender Marcos Alonso and estranged winger, Victor Moses to be Chelsea's wingbacks in their title winning season.
Nor did anyone expect Perisic to have a pivotal role in Inter's title winning side after spending the previous season on loan. 
It should therefore be of no surprise if Conte relies upon some surprising names in his Spurs team, maybe looking towards some lost figures in the squad who are capable of an immense work rate, maybe Conte will be the man to transform Alli into the player he was projected to become.
It is also likely Conte will look towards strengthening the squad in January, looking towards Serie A for players who are comfortable playing in his system. 
Counter Attacking With Control
Although Conte may be offended to have his football labelled as counter attacking, he is more than comfortable to set his teams up in a defensive structure and use his fast-paced wingbacks and attackers to move the ball up the pitch as quick as possible.
Of course, against weaker opposition his team will control possession and use incisive passing and width to stretch the opposition. But there can be no arguing that he likes to catch the opposition out when they are in their attacking shape and use the transition to his advantage.
If this means using long balls, then so be it, Pirlo and Fabregas would both play a quarter back role under his management, placing balls behind the high opposition defenders. It is not hard to imagine Ndomblele sending a long ball for the quick-paced Son to run on to.
Passion on the touchline

If there is one thing Conte will without doubt bring to the touchline, it is passion. From swinging on the bench shelter as Italy coach, to running down the pitch to join fan celebrations when managing Chelsea, he has a history of histrionics.
After the sombre and reserved personality of Santo, Conte will inspire the Spurs' players and fans alike. When things are going his way then there is no better man to symbolise the ecstasy in the air. 
However, if things begin to sour, like Mourinho, excuses are made and players are blamed. This may become his downfall. The Tottenham job may prove to be his toughest job to date; with a stale squad, limited funds, and no real experience of success within the club, Conte will have it all stacked against him.
It is a completely different challenge from the expected success at Juventus, Chelsea, and Inter. If he is unable to succeed quickly, critics will make his life difficult, and he has a poor track record of dealing with this criticism. So, although his passion will lead to initial inspiration, it may wain and lead to him becoming a disgruntled figure. 
Antonio Conte will make an instant impact at Tottenham, his tactical knowledge, excellent coaching, and passionate man-management should lead to an instant upturn in results. He is the manager Levy was hoping for and perhaps some of Tottenham's rivals will be left regretting they didn't nab the man themselves.
But success will be defined by his ability to finally win the long-awaited silverware, getting the best out of the squad that should have already achieved success. This may be Tottenham's best and last hope for such an outcome!
Take Your Game to the Next Level
All the tools you will ever need to become a 
successful coach, try us for free now!
100's of Drills
Coach to Camera
Sessions from Pro's
Industry Leading Coaching Tools
Try Free Trial Now