U9 Relevant To The Game
Playing at the Under 9 level – players will have been playing at this level for up to two years although many players will be new to the ideas here. The main objective is to enjoy playing the game and having fun doing so. It is recommended to play 7v7 in matches with the aim of developing individual technique and mastery of the ball.
How Does Training Change From U8s to U9s?
A training session with U9s is longer than it was at U8 – you can now move from 1 hour up to 1 hour 30 minutes at this age group. The session will use the same formula as U8 with the addition of an extra drill and the game at the end can be longer. So you will need a warm-up, two drills, and a small-sided game. The Warm up at all age groups is always around 15 minutes unless there is a reason to change that. Two drills are needed which last 20 minutes each then the game at the end. Don't forget to include water breaks and setting up time.
Often a warm up will not need as much time to set up as the drills so you can do this before the session begins. 
All players must be wearing shin pads or they should not take part.
U9 Training Objectives
Skill
The technique is most important – controlling the ball with all parts of both feet in all directions
Defending 1v1 and decision making
Attacking 1v1 learning a "trick"
Heading for fun
Technique
Combining ball control and speed in complicated situations where there is an element of resistance
Beating opponents with decision making
Coordination and balance
Game Craft
Coordinated movements at speed
Relevant to the Age Group
IMPORTANT Players should know the 3 main moments of the game:
 We have the ball
They have the ball
Changing possession (losing the ball, winning the ball)
Prior knowledge and abilities
At U9s players will be efficient in 1v1 situations, have good accuracy in individual soccer techniques, and use skills effectively in relation to the ball and teammates.
Acquired Knowledge and Abilities
By the end of the season players should be able to:
Skill
Developed passing, receiving, and retaining possession skills
Pass effectively over a variety of distances
Can defend alone
Technique
Recognise opportunities to run with the ball and is effective in doing so
Keep possession of the ball as an individual and as part of a team for a set time – 15 seconds
Receive and cushion the ball with more than one part of the body
Game Craft
Understand and implement relevant patterns of movement
Use passing combination skills
Use crossing and finishing skills in-game realistic practices
Challenges
Play one-touch where it is possible
Can I run into space with the ball
Can I use the relevant skill to win a 1v1 in different parts of the pitch
Influential positions in 7v7 games
With 6 outfield players in a 3-2-1 or 2-3-1 formation you can imagine that all positions in this formation are crucial to the game and all of the positions influence it in some way. However if you want to spotlight a couple of the crucial positions then my focus would be on central defensive midfielder or central defender – depending whether you have two or three at the back – is a key one.
With that in mind you want all your U9s to experience playing those two positions in the team and you can also keep a close eye on how they deal with the situations they find themselves in.
You can use the 7v7 formation as the set up that you want your players to fit into – use the strengths and weaknesses of your players to help position them in the formation so that their strengths add a lot to the game but the weaknesses do not have such a big effect.
Hopefully all your players understand pressing and tackling and recovering position in transition. So going back to those two important positions you need a good reader of the game who understands pressing and can recover quickly in the defensive mid role.
For the player up front on his/her own you need a fast player with a good, accurate shot and one who is working on using both feet to shoot. But as you nuture these players into their roles remember that they may well become better at different positions throughout the season and you need to constantly try players in training in different positions.
It is a tight formation so players need to be moving into situations where they are most effective for the team.
Positional play is key at 7v7 so players begin to understand reacting in transition recovering to stop counter attacks and dropping into spaces when team mates have gone to press.
Soccer Drills Coaching Tips
Dealing with parents
Organise a pre-season meeting for players and parents.
Tell the parents your aims for the season and explain what you are doing and why
Ask parents about their expectations
Ask for help with setting up and tasks like admin and organising matches.
Make sure parents are at least 3 yards back from the edge of the pitch during matches.
Time Spent Playing v Time Spent Talking
At this age children get bored pretty quickly and switch off. 30 seconds is the maximum length of time children of this age group will listen – let the players learn by playing the game. If you talk for longer than 30 seconds they will have stopped listening and you will be wasting your time
Coach Intervention
There are times when as a coach we should let the gameplay on and see if players can self-correct. we shouldn't always step in to point out a mistake. Mistakes are great for individual learning and teammates will often do the pointing out which is better than an adult doing it.
Dealing with Behavioural issues
Bad behaviour is unacceptable and should be dealt with either at the time or at the end of the training session. Do not allow it to happen or it will become the norm and your coaching sessions will be difficult. Do not hesitate to stop play and highlight the problem so that everyone is aware of it and knows that it is wrong and play will stop.
Using Questions for Learning
Players learn a lot from the questions you ask. I have a well worn piece of paper in my pocket with a number of questions that I ask the players during and at the end of a training session. Try not to give the answers when you are asking the questions although I know it is difficult at this age.
Questions are great for checking whether your players have understood the coaching point you have been trying to get across – whatever drill you use from the 10 drills below make sure you understand the coaching point and that your players do. They are also good for getting feedback with questions asking what they enjoyed about the session they have just played in.
Try and use open questions that cannot be answered with a yes or no. Questions like "what did you enjoy about the session today" NOT "Did you enjoy that".
The main attributes of using questions and the reason why we do are:
Gets player attention
Informs the coach of what the players know
Involves the players
Allows player to give their opinions.
All these things also help team bonding and team spirit.
U9 Soccer Coaching Book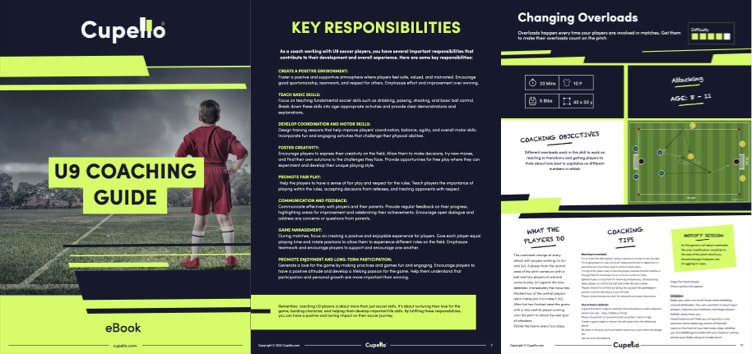 Ignite the potential of your players with this all-Inclusive manual for coaching U9 players. Unveil a treasure trove of effective methodologies, practice routines, and invaluable insights that will elevate their skills and propel their team to glorious triumph, igniting an unquenchable flame of passion for the game.
Download Now
U9 Soccer Drills
The following activities underpin the development of the basic skills that are the building blocks of the complete player. At U9s players need a mixture of fun games and practice to develop their knowledge and love of the game.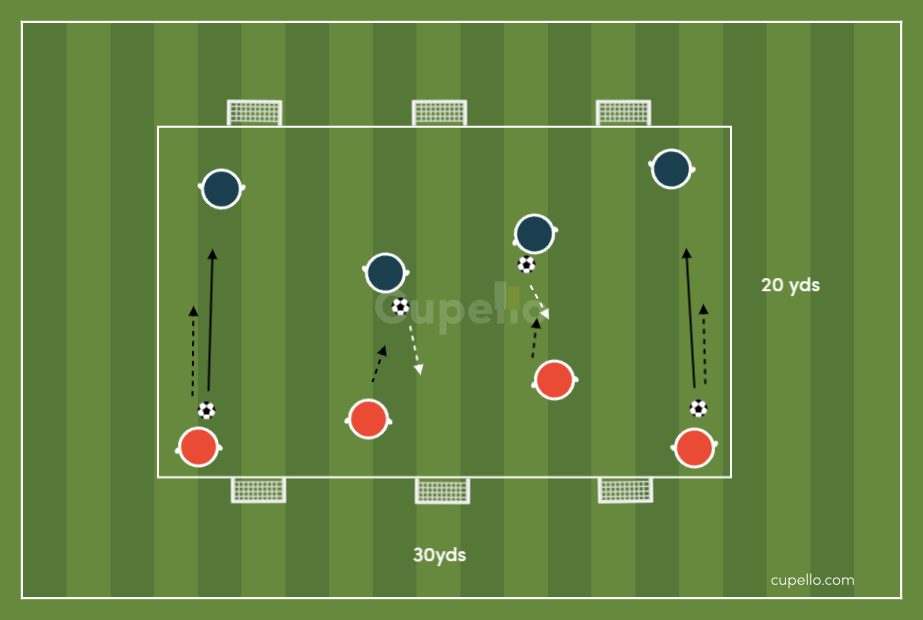 The ability to manipulate the ball in order to dominate 1v1 situations and beat opponents is key at this stage of development.
It's important we design sessions that allow players to connect socially and develop different skills through the power of football & this game is great for that!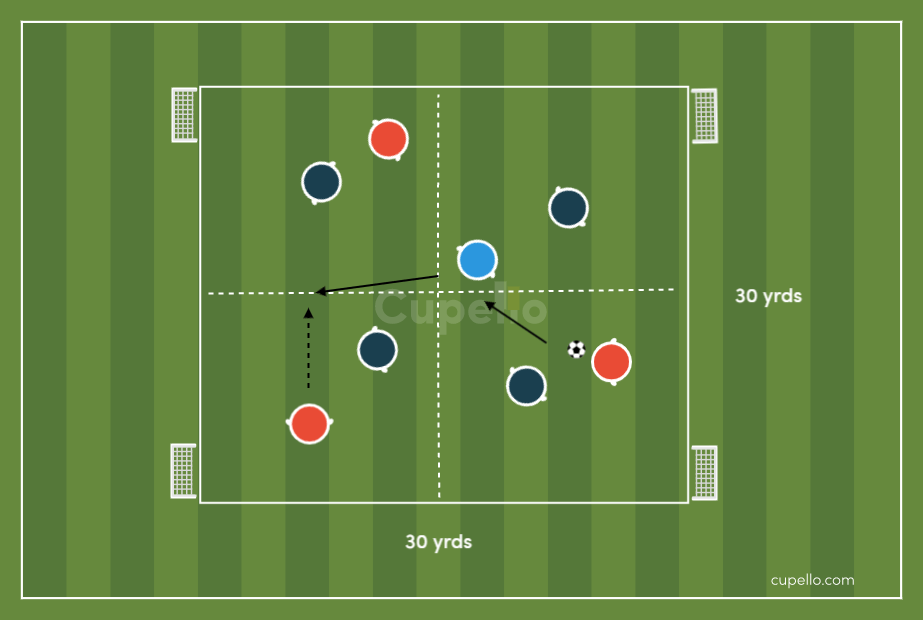 A fun small-sided game where players will try and take advantage of the overload to create more goal-scoring opportunities.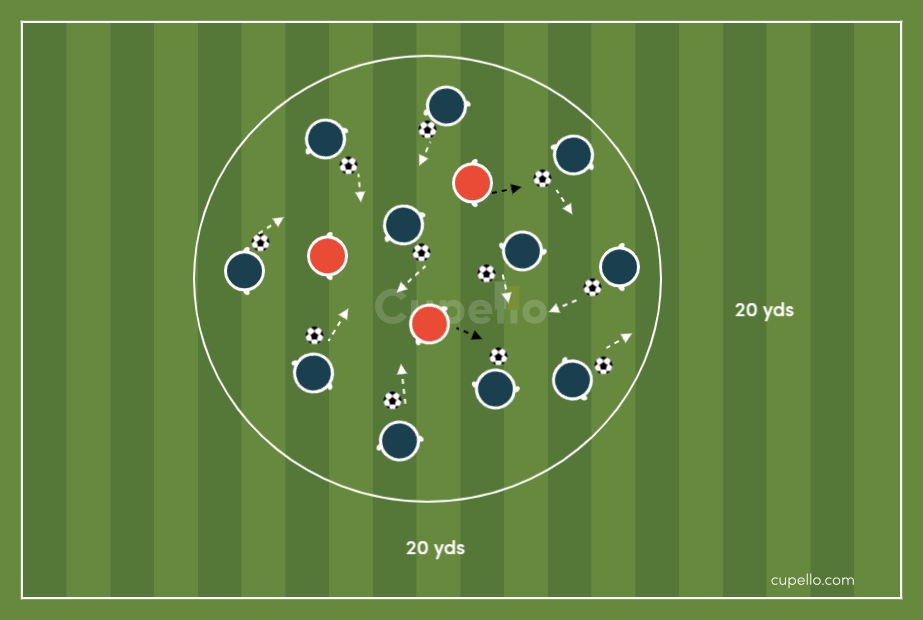 Working on players dribbling skills and individual technique will improve a player's ability to keep possession and master the ball.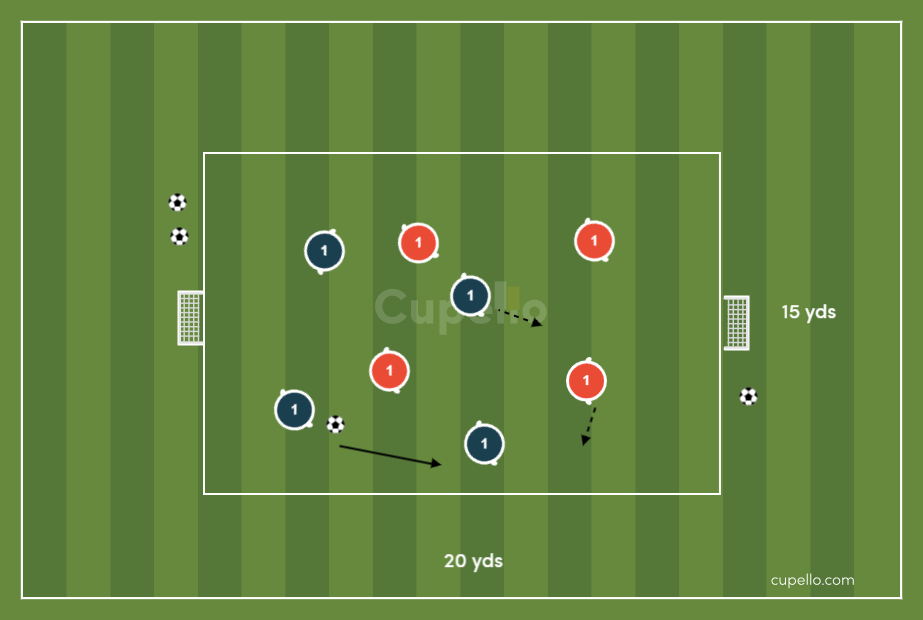 Fun game to encourage players to create space and move into it.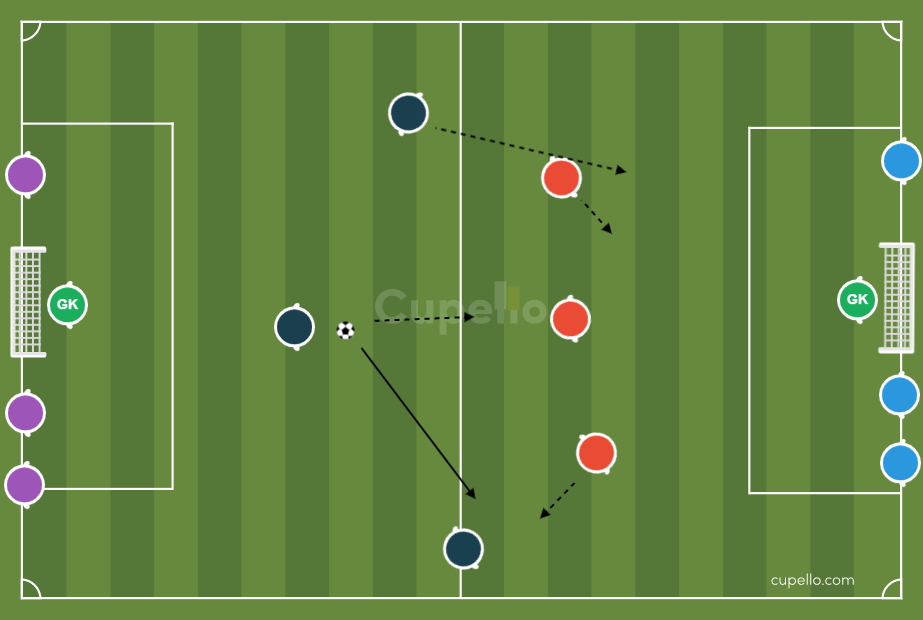 Build-up play and combinations is vital to any team wanting to score goals, try this drill and watch the players grow.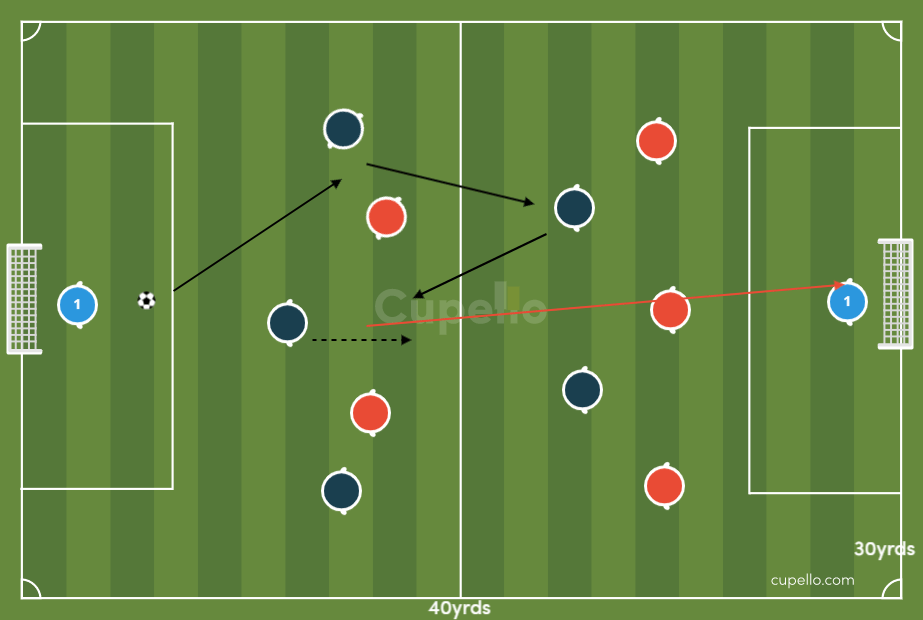 This fun game will give players lots of opportunities to get shots on goal from different distances.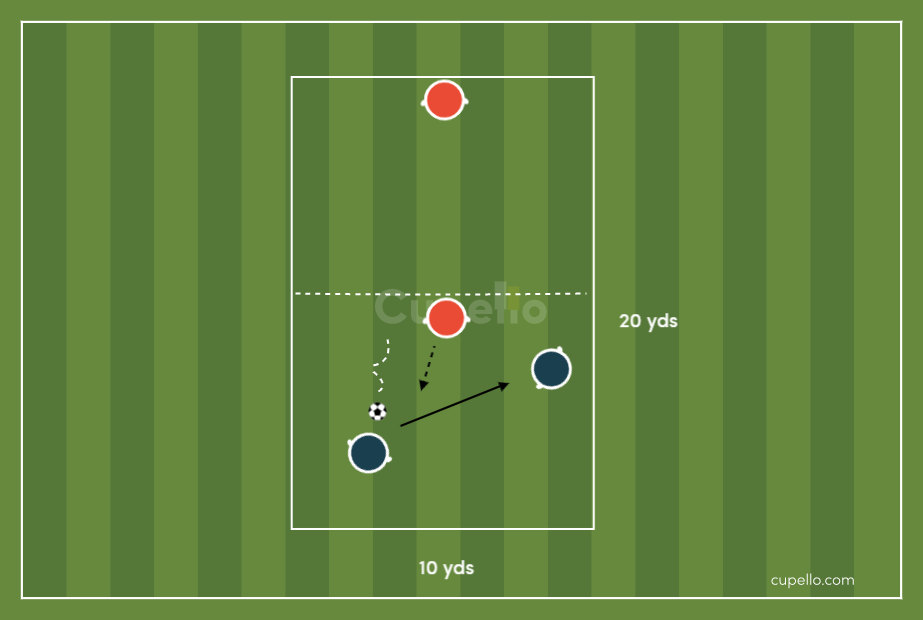 A competitive game where players will have lots of touches of the ball, developing their movement and combination skills to beat their opponent.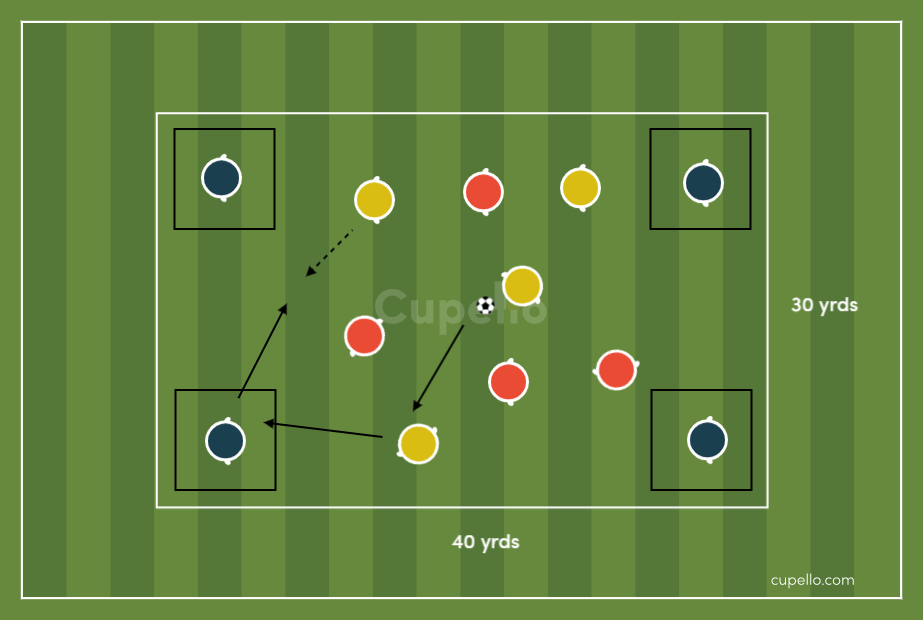 This game will develop players passing and receiving skills and will help when trying to play around opponents & dominate possession.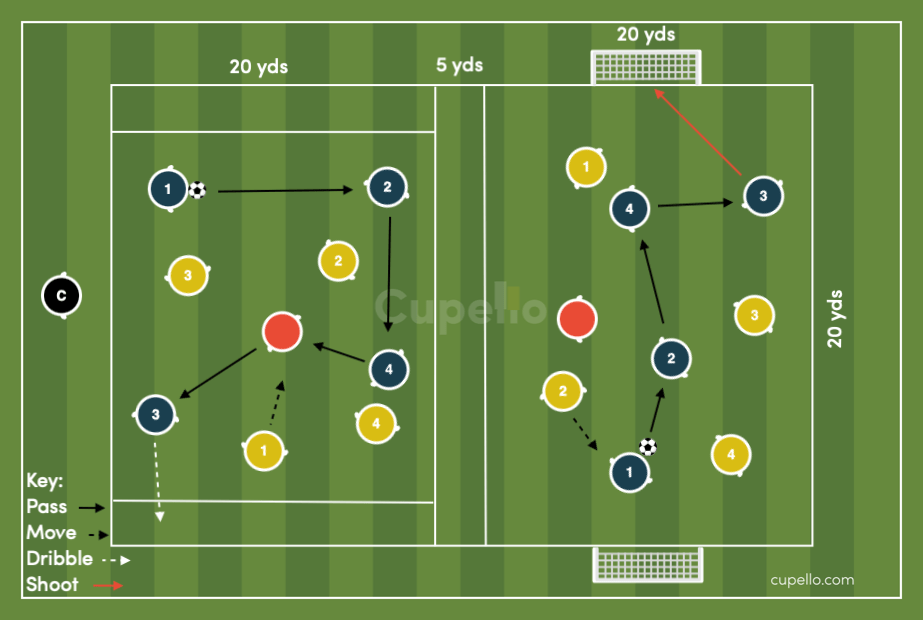 Test your player's concentration with this number calling drill, switching them between multiple games.
Improve Your GameJust 1.99 p/m
Exclusive drills and sessions, get involved today!
100's of Drills
Coach to Camera Videos
Sessions from Pro's
Industry Leading Advice
Try 7-Day Free Trial