This is a simple guide to coaching the best soccer drills for U8s. What to coach and how to coach. These create the development blocks that your players need to be able to play to the best of their ability in matches. Within this framework, they learn the rules of the game and are introduced to game skills.
U8 Game Relevant
At the U8 age group, the players are recommended to play the game at 5v5 or 4v4 depending on where you are living. The USA is 4v4 with no goalkeepers and Europe is 5v5 including goalkeepers.
How Do You Train U8 Soccer Drills?
The coaching, training, and matches should last no longer than 60 minutes at this age group. You will need to use a warm-up, a drill, and a small-sided game. The warm-up should be 15 minutes and a drill 20 minutes plus a game with however long you have left of the hour once you take into account stops for water breaks and setting up.
Try to arrive early to set up the warm-up and if there is space for the first drill.
Make sure all the players are wearing shin pads or they should not take part.
U8 Soccer Drill Objectives
Skill
Individual and collective basic soccer techniques – ball control
Introduce both feet, shooting, passing
Players should be 'doing' not 'listening'
Technique
Develop speed, coordination, and motor skills with and without the ball
Little and often – make it fun
Game Craft
Balance in relation to the ball and teammates during games
Fun and enjoyable with direction
Soccer Drills Coaching Tips
Don't talk too much
30 seconds is the maximum length of time children of this age group will listen – let the players learn by playing the game. If you talk for longer than 30 seconds they will have stopped listening and you will be wasting your time.
Correcting Mistakes
There are times when we shouldn't step in to point out a mistake made by a player – mistakes are a great way to learn the game and their teammates will often do the pointing out which is better than an adult stepping in and making the player feel bad.
Bad Behaviour
Any bad behaviour like fighting, kicking, pushing over, verbal abuse, or any form of poor behaviour Must be pointed out. This is a must. Do not hesitate to stop play and highlight the problem so that everyone is aware of it and knows that it is wrong and play will stop.
Questions
Asking questions is a great way for players to learn from self-discovery. This means that players can find their own ways to correct mistakes or solve problems. Try not to give the answers when you are asking the questions although I know it is difficult at this age.
We ask questions to check player understanding and to get feedback. It also helps to get players to think about the question and in finding the answer be far more aware of the coaching point you were asking them about.
Try and use open questions that cannot be answered with a yes or no. Questions should start with What, How or Where. Using Why can be seen as a negative question.
Asking questions works because:
Gets player attention
Informs the coach of what the players know
Involves the players
Allows a player to give their opinions
All these things also help team bonding and team spirit
U8 Soccer Drills
The following activities underpin the development of the basic skills that are the building blocks of the complete player. At  U8s players need fun games to develop their love of the game and generate the will to learn.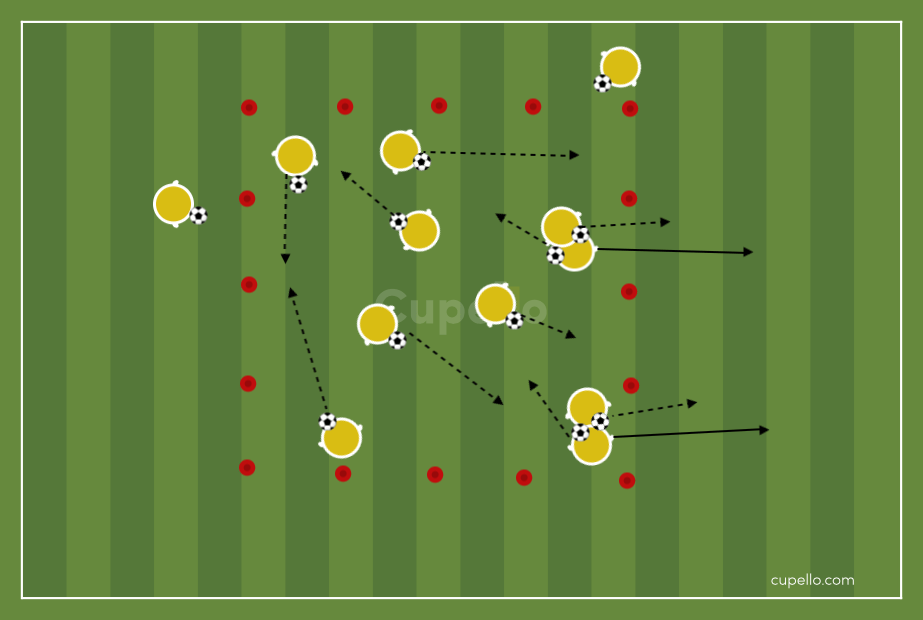 This game gives young players a lot of repetition in game-related techniques that will help to develop them to the best they can be.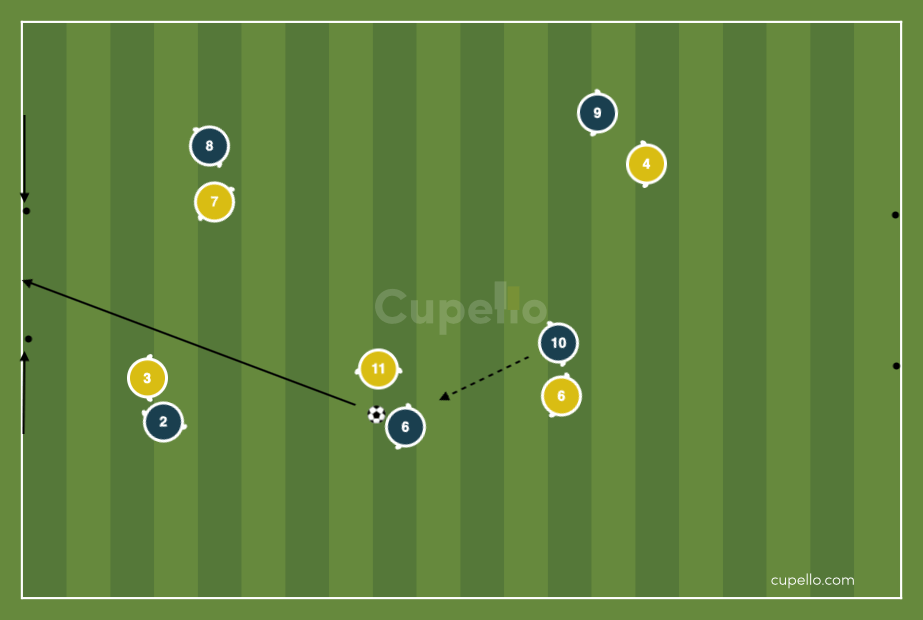 This is all about accurate shooting and it provides a natural handicap that equals up teams in terms of skill.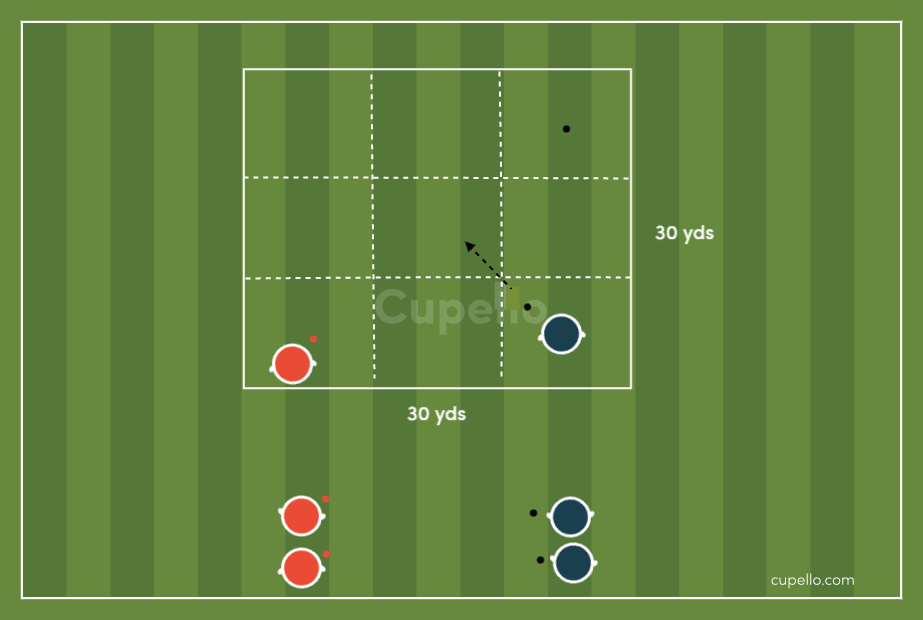 A social game with some hidden physical and technical outcomes to use either at the beginning of the session as a warmup or as a general social activity.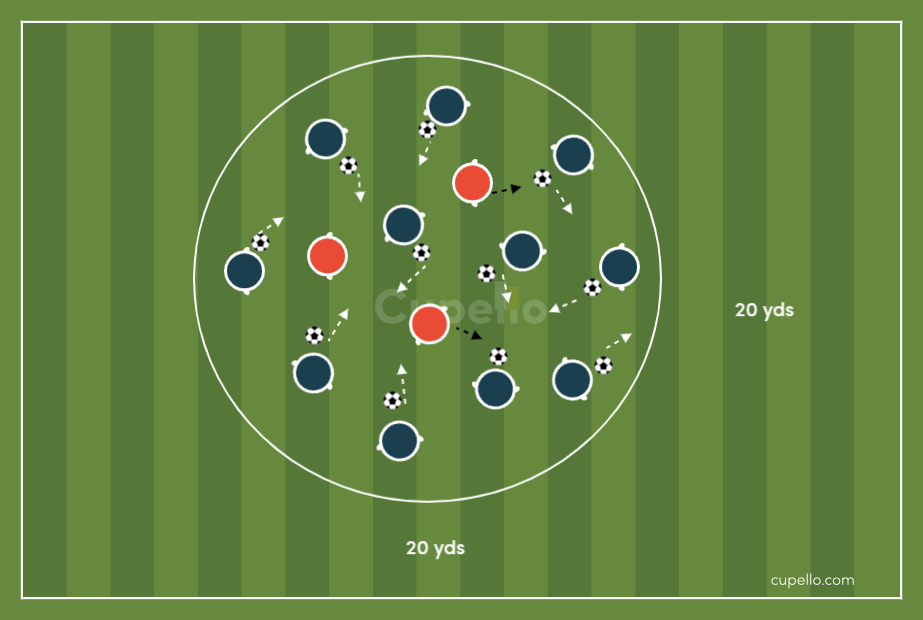 Working on players dribbling skills and individual technique will improve a player's ability to keep possession and master the ball.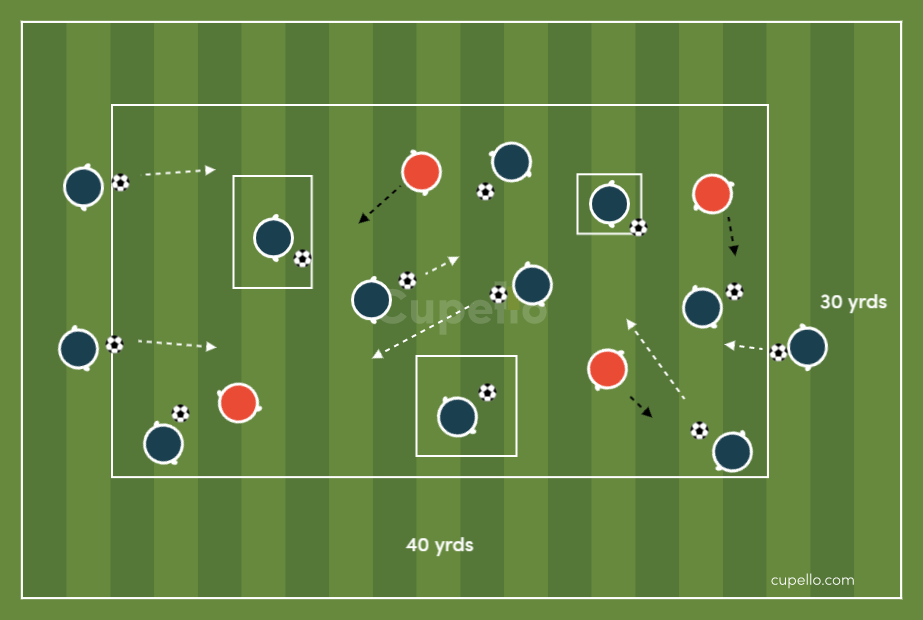 A fun game that will develop players' confidence through storytelling and allow for lots of touches on the ball.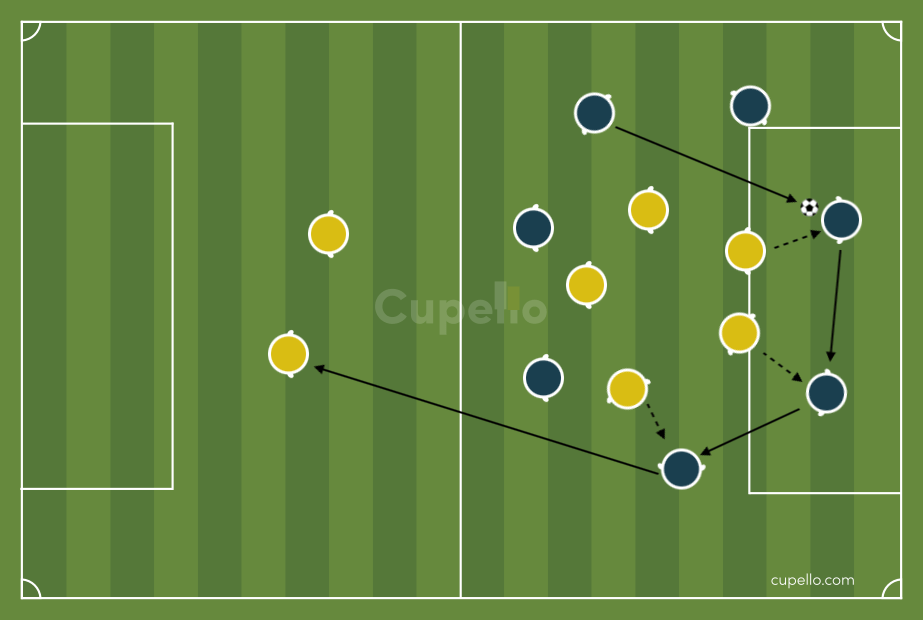 This drill will help you to coach your players to press and win the ball in all areas of the pitch - win possession and keep the ball.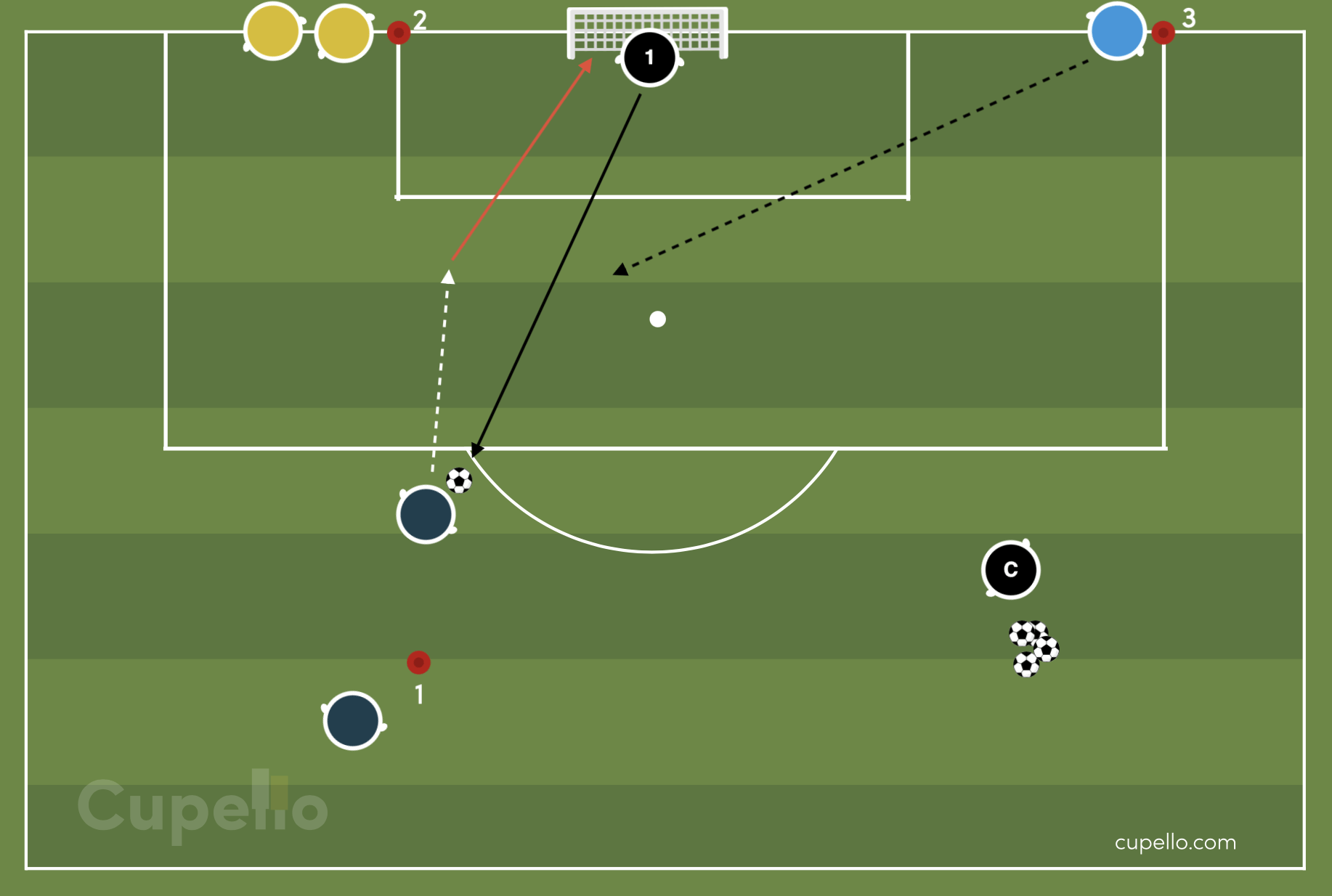 1v1 is one of the key battles you will see in any youth soccer match and success in these battles are key to winning games.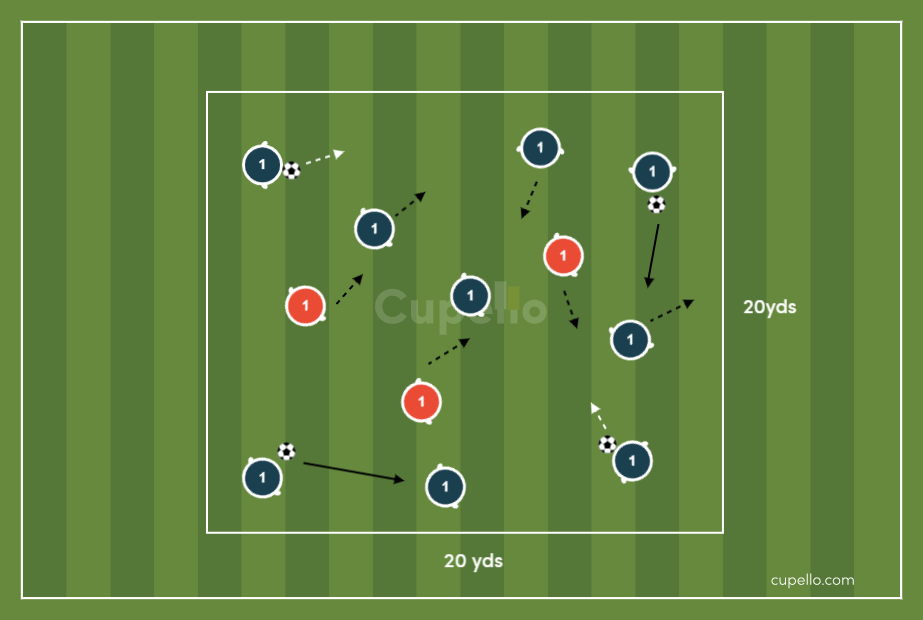 Encourage players to move around in this drill, trying to find space and keeping their head up, looking for opportunities to receive the ball and keep away from 'taggers.'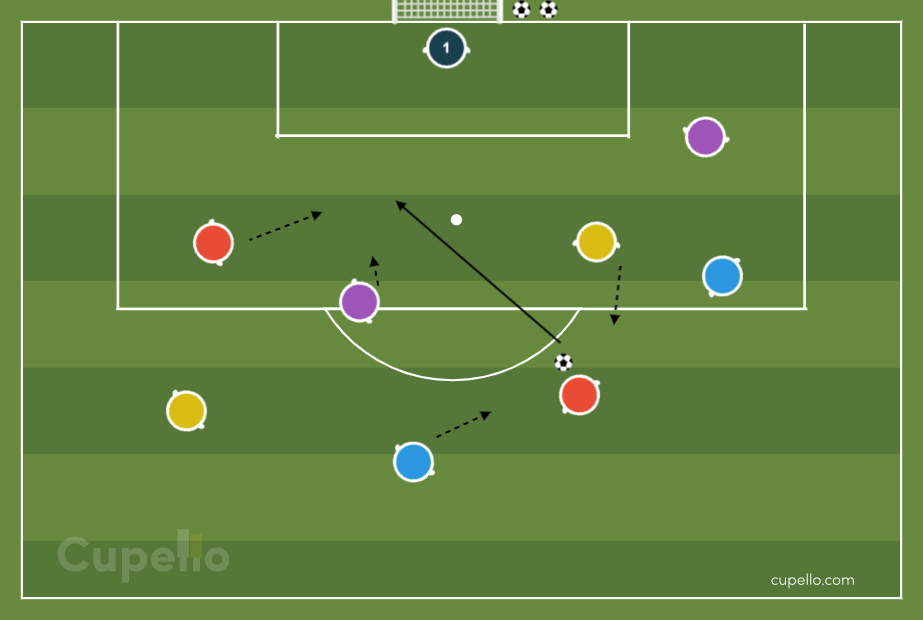 Working on players' support, movement, and combination play will help teams keep possession and create goal-scoring opportunities.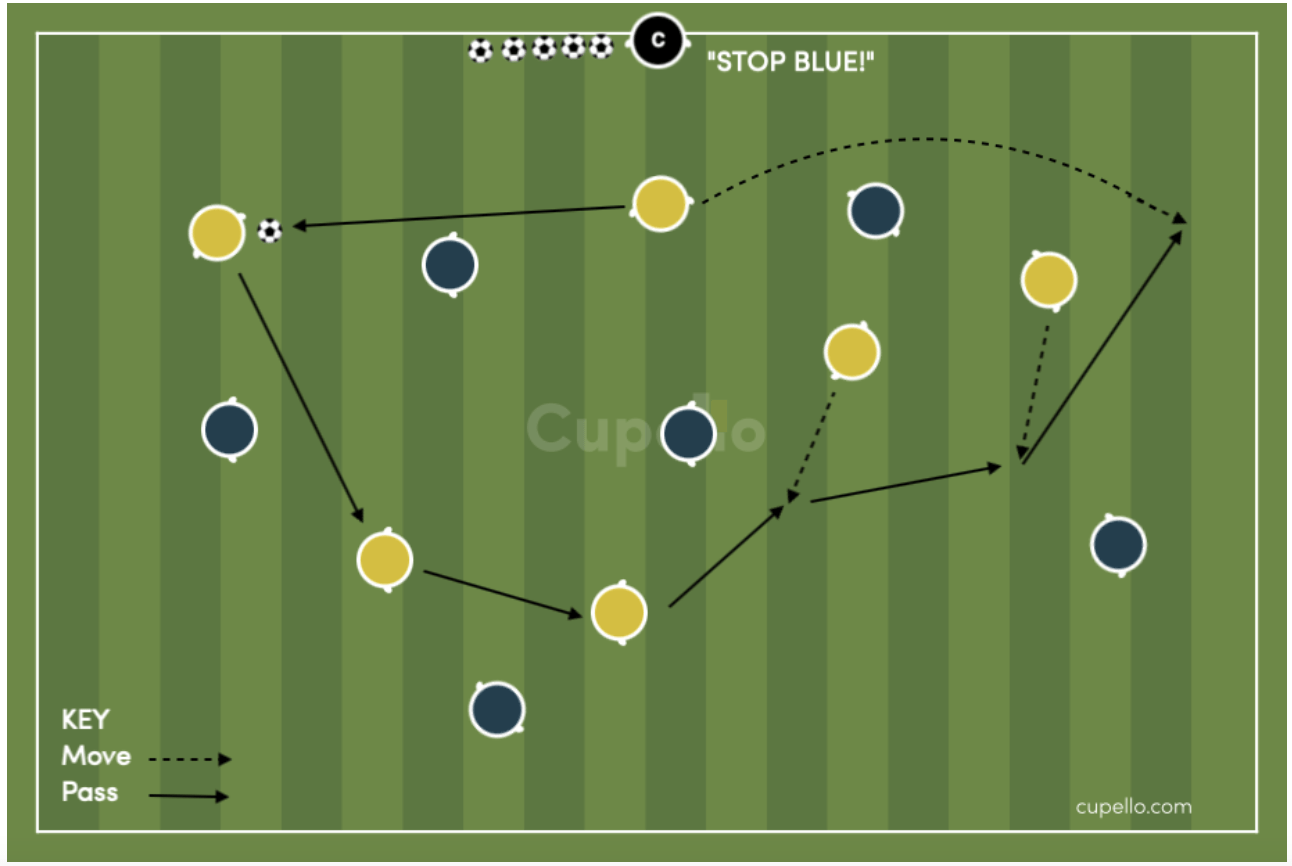 For teams to keep possession players must move after they have passed the ball. In this activity, players can move and pass between the lines of the opposition and move quickly to score a goal
Take Your Game to the Next Level
All the tools you will ever need to become a 
successful coach, join us today on a 14-day free trial!
100's of Drills
Coach to Camera
Sessions from Pro's
Industry Leading Coaching Tools
Try 14 Day Free Trial
Recommended
.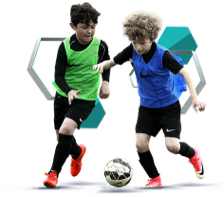 Moments of Transition Free eBook
Download our Free Moments of Transition 10 Game eBook now.
Download Now