You can be sure with the sessions on Cupello that you are getting tried and tested sessions that work at every level of the game because we have coaches that coach at every level of the game in men and women, boys and girls teams.
When you are coaching using the sessions you need to take some things into account outside of the actual session that will help you in your coaching experience.
Soccer Session Coaching
Children learn their best by doing not listening – make sure you don't talk for longer than 30 seconds. Try timing your self every time you stop the session and speak – you may be surprised at how long you are talking for.
I use this saying to remind myself each time I create a session and think about coaching it:
I hear and I forget
I see and I remember
I do and I understand
So what that tells me is that the kids you coach learn more from doing than listening to me trying to explain it. Of course, a lot of the coaching points that come through the sessions rely on you the coach understanding what the coaching point is, if you don't then there's not a chance the players will understand.
Being time limited means you need to know the session before you go and get clear in your head what it is you are coaching. In that 30 seconds you need to get across the coaching point then get your players to do the session. Think about what you will say to help you during the session.
Of course, Cupello makes it easy for you to just get on and coach by explaining the coaching point and what you have to do.
You can also break up the amount you are talking about by asking questions to gain some idea of how they are managing to understand what it is you are doing.
Depending on the age of your players you can ask questions like these:
How did the session help you improve as an individual?
How did the session help you improve as a team?
Did you find the session challenging?
What do we do in training that you think doesn't help you as a player?
At the end always ask your players if they have any questions for you as this will make you appear very approachable to your players. And one of the hardest things to do is not to rephrase the question once given, let them have a bit of time to sort it out and eventually you will get some answers.
Parents
The main role of family members, especially parents, is to give support, to be an outlet for the player, and to give advice and encouragement.
Home influences have a big effect on children growing up, with many of the beliefs, values and attitudes learnt in the home. It is worth the effort ot get parents to help in the experience of being part of a team with positive reinforcing of messages to help you with the players you are working with.
However, it is recommended that parents stand 3 yards back from the side of the pitch so you can rope of the area so they are not interfering with the play. Tell parents you want positive comments from the edge of the pitch and not negative ones.
There are many ways you can handle the parents to get them onside:
Meet with the parents before the season starts
Explain you ideals for the season
Set them some tasks to perform like setting up the goals and corner flags
Free Grassroots Fun Soccer Games eBook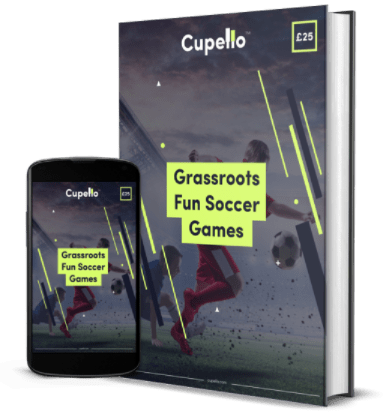 Keeping players on top of their game throughout the season is critical, and small-sided games are ideal for this. There are over 50 activities in this guide to help you do just that.
Download Free Now
Take Your Game to the Next Level
All the tools you will ever need to become a 
successful coach, try us for free now!
100's of Drills
Coach to Camera
Sessions from Pro's
Industry Leading Coaching Tools
Try Free Trial Now
Soccer Sessions
Cupello sessions are made up of three parts,
Warm-up
Phase of play – Positional Possession Pressing
Game
Warm-ups
These should be part of your session, with the Cupello sessions a warm up that is relevant for the coaching point. It is essential to begin sessions by warming up as this gets the body ready for the next parts of the coaching session, reducing the risk of injury.
Warm ups are also a way of getting players' minds into gear for the session or the match – it gets the players to stop talking about the day they have had and gets them into playing the game. It is encouraging players to act in a more professional way creating a positive mental attitude for the session.
Before the warm up begins there should be a short period of dynamic stretching, or ball work either individually or in small groups.
They should encompass:
Fun
Understanding
Technique
Stretching
Time management.
Dynamic stretching should cover all the aspects of a game of soccer. This includes:
Heel flicks gentle running with hands behind back, kick hands with each stride.
High knees gentle running, hands in front, each stride bring knees up to hands.
High kicks gentle running, one-two-three-kick! Keeping leg straight on the follow-through. Use alternate legs every three strides.
Groin stretch bend leg and bring knee upwards then move it sideways and put it back down. Use alternate legs.
Phase of play – Positional Possession Pressing
Possession soccer works on having possession of the ball, but making use of that possession with positional play. Here the positioning of the players is important in team tactics using positional games where players learn that even when not directly involved in the play they can still help their team by being in the correct position. This creates space for the player in possession giving more time for passing or dribbling.
Game
This can be small sided with play against each other in the same squad or a match against another squad. Use these gams for technical or tactical work to the principles of play and team understanding.
10 Best Soccer Sessions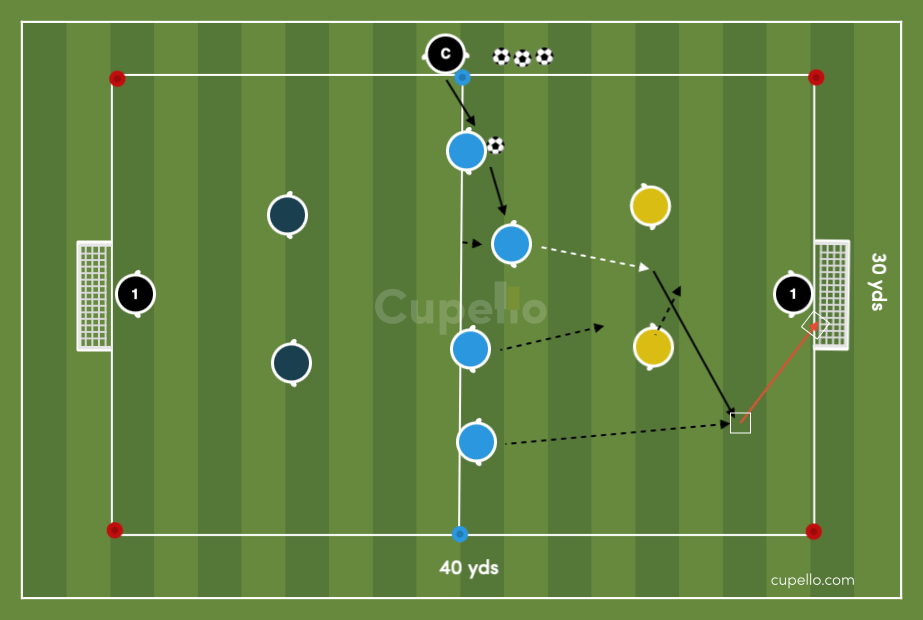 You need to make the most of counter attacks in your soccer matches. The best teams can soak up attacks, press the opposition, win the ball and hit quickly and effectively. This session will help your team do that.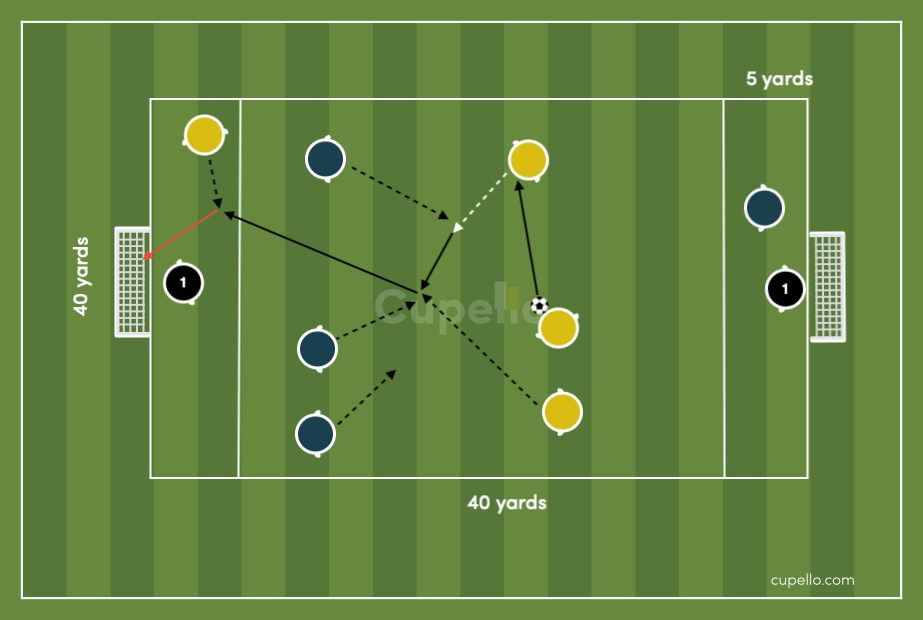 This session puts players into different scenarios to give them experience and allow you to coach them to perform at the top of their game. Session gets teams to create space for strikers to receive and shoot at goal.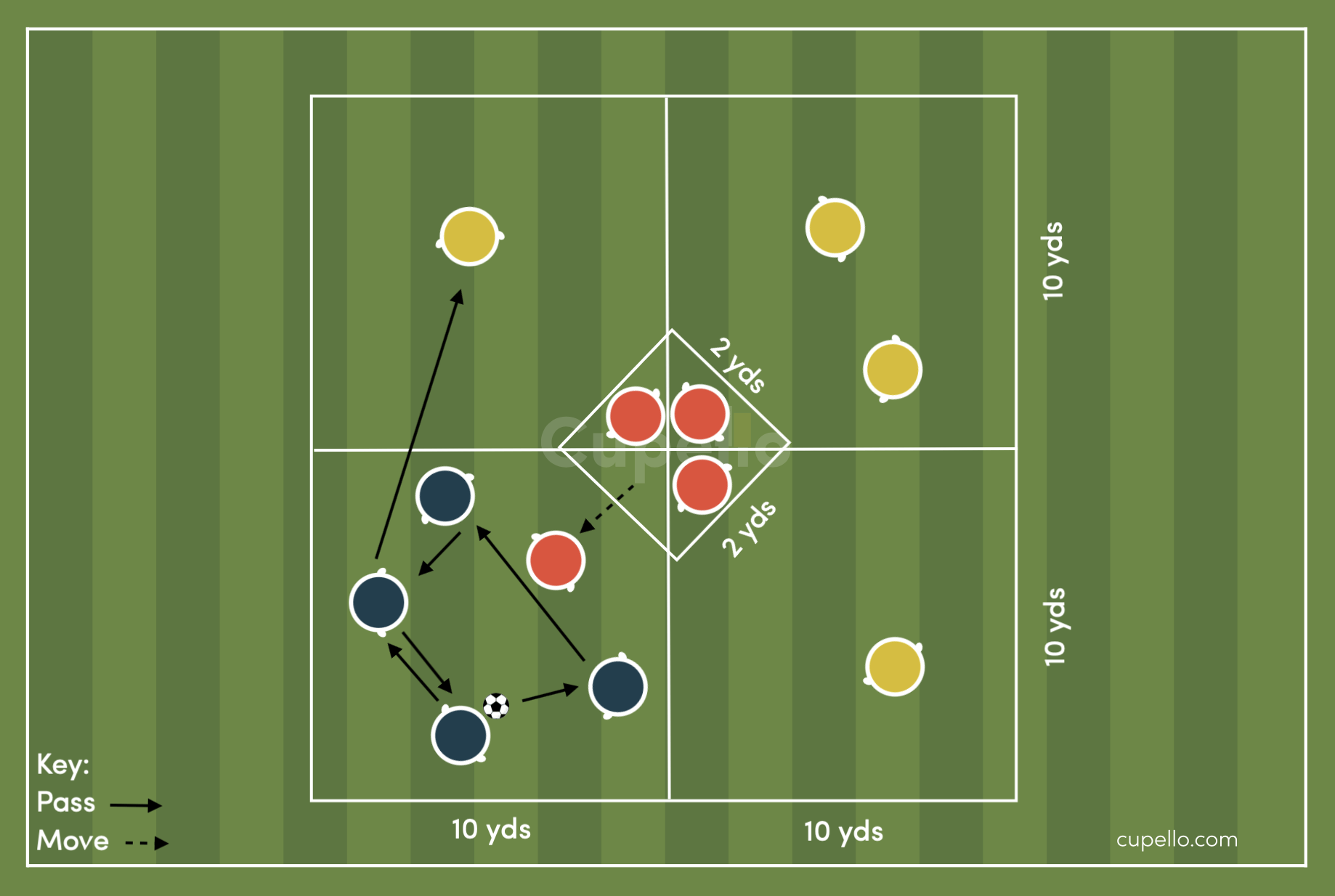 Players must learn the skills to keep possession of the ball when pressed by opponents using fast passing moves and players supporting the pass. Vital to this is good decision making with the session focusing on key moments.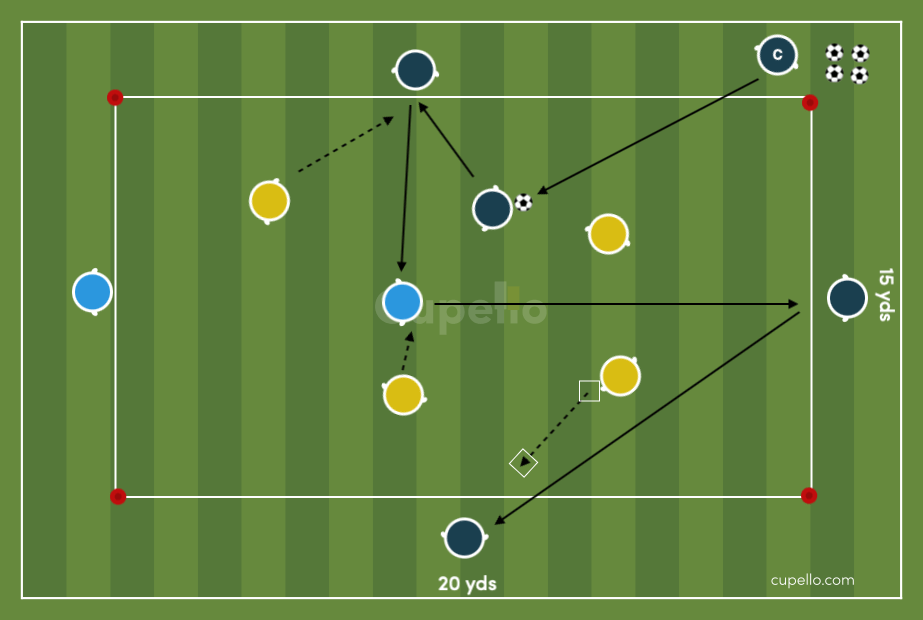 Coach your players to position themselves in areas to make it difficult for the defender to block passing routes. In possession move your opponents by fast movement to switch positions and create passing lanes.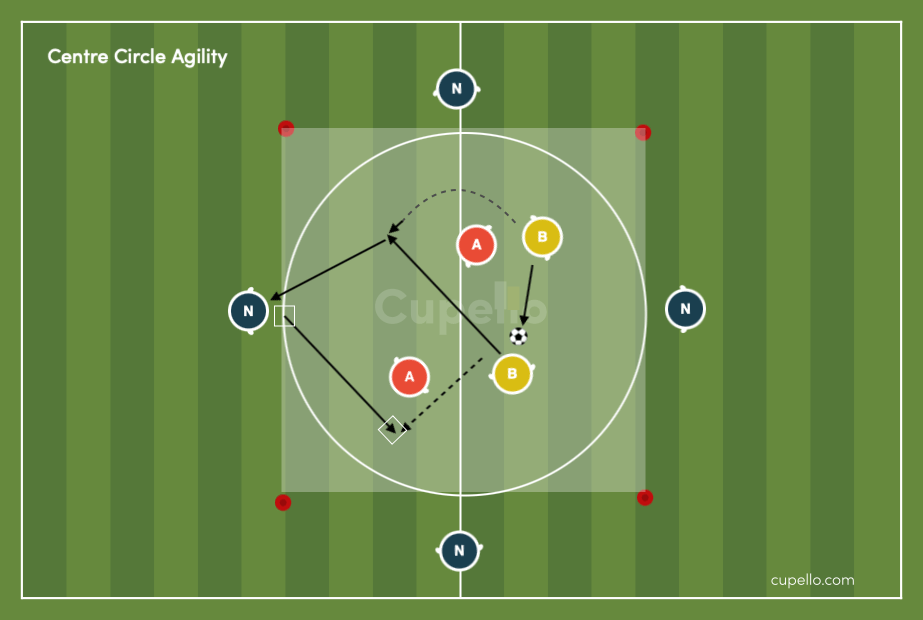 Using 2v2 games is a key part of your coaching season. Working with small groups gets players used to combination play, individual skills and movement, and interacting with a team mate to keep possession of the ball.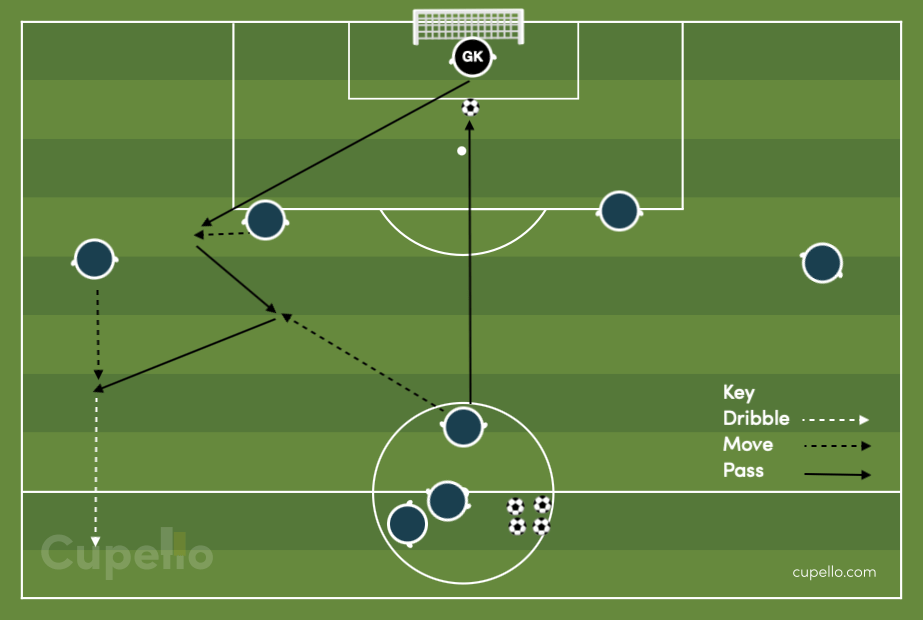 Passing out from the back is one of the best ways to ensure your team is keeping possession of the ball all over the pitch. Playing through the thirds will give your team more chance of getting the ball up the pitch into the final third where they can be creative and score goals.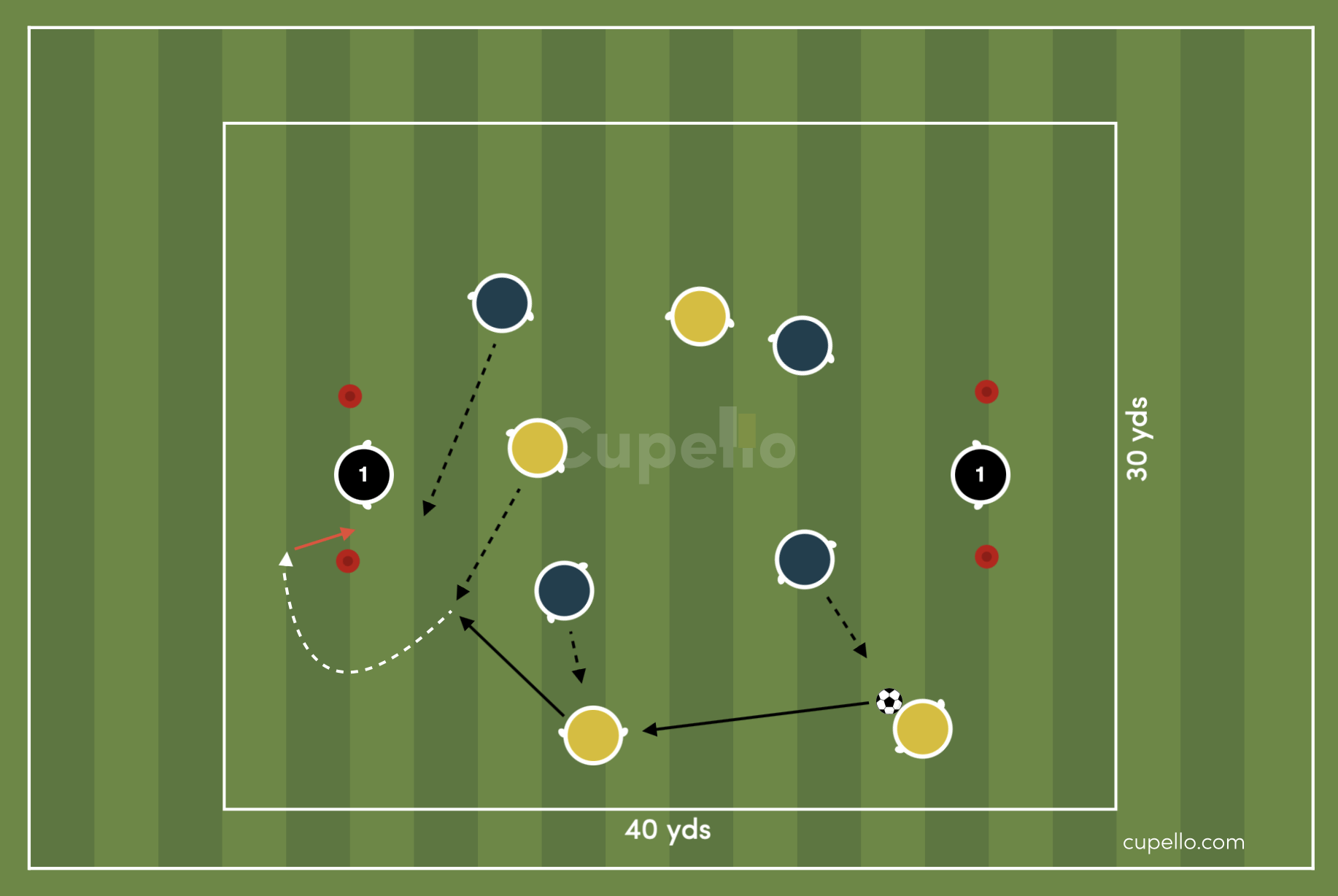 Great session to improve players physically and technically with a great workout that works player agility and physical capacity getting both up to speed during the season. Also, help to prevent injury for players by stretching muscles and joints.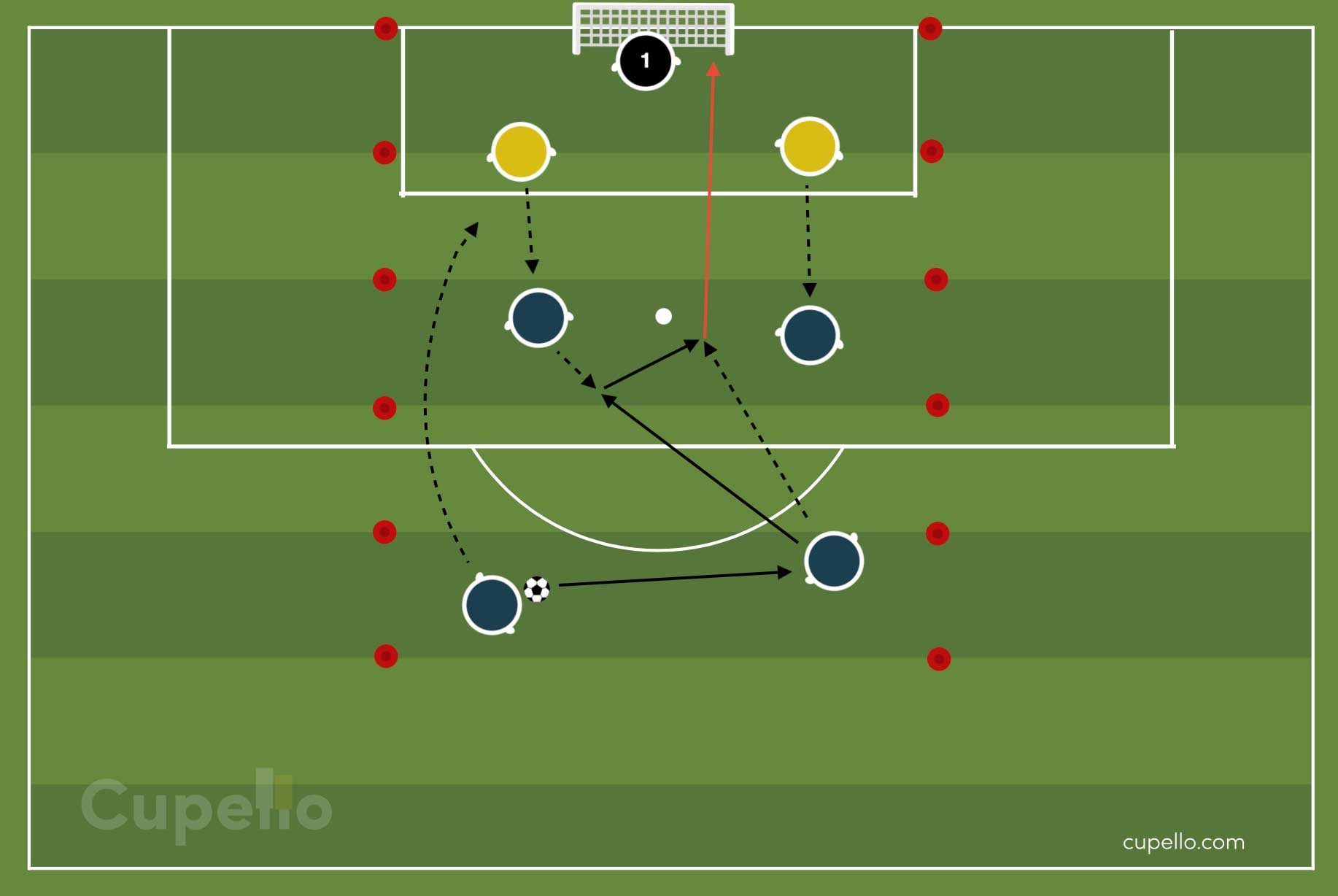 Working on support play should be part of your player development. This is all about a good technique to pass and move but it is also working on player anticipation to pass into space where team mates can run onto the ball.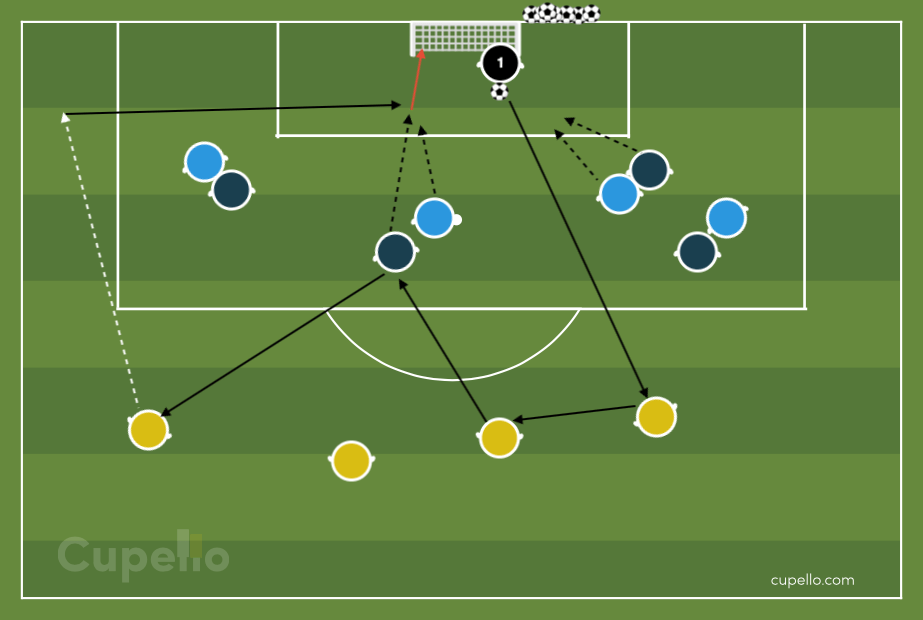 Winning battles in key areas will maker your team more successful in games. They will keep possession better and create more forward play to give your team more chance of scoring goals.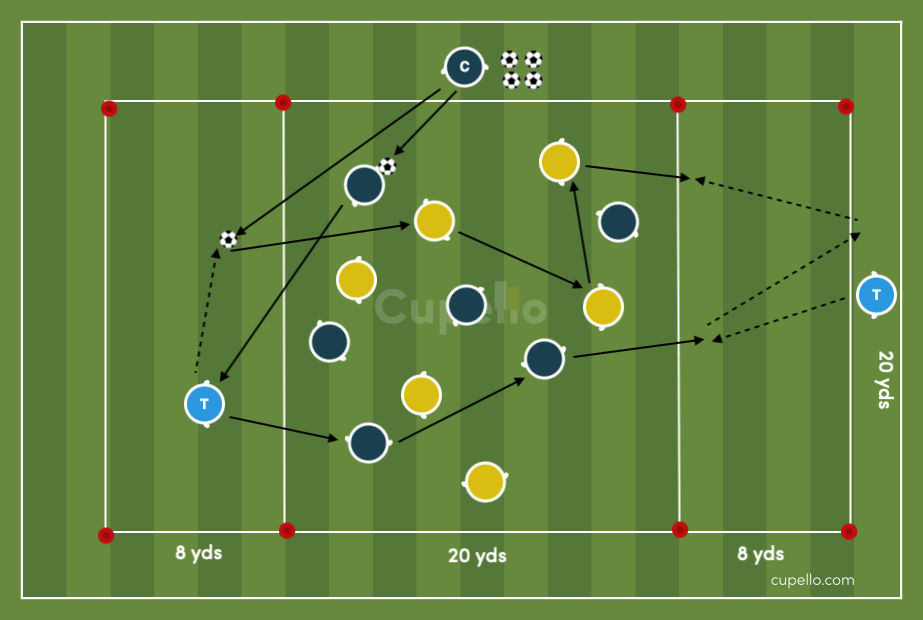 Attacking centrally needs good balls played behind defences to get players running onto and powering their way into goal scoring positions. Through passes need anticipation, communication, and vision which you can get if you use this session.