The 10 best passing soccer drills in this guide will help you coach your players to keep hold of the ball and get it into attacking positions with good passing build-up play.
Passing Soccer Drills
How is it done?
Passing is easier if the ball is moving so take a little push with the side of the foot to get the ball out from under your feet to start any passing move. You can pass the ball in many ways but the one thing all players should practice every day is what should be the simple art of playing a sidefoot pass. Easily the most accurate way to pass and with practice you can make sure you hit the right weight for your teammate to run onto or receive on his/her back foot.
Passing Drills - Benefits of Incorporating
Passing drills offer an array of advantages for players:
Improved Accuracy: Drills help players refine their passing technique, enhancing accuracy and consistency.

Quick Decision-Making: Practicing passing under pressure enhances players' ability to make split-second decisions during matches.

Enhanced Vision: Passing drills encourage players to scan the field and identify optimal passing lanes.

Team Cohesion: Consistent practice of passing drills fosters better communication and understanding among teammates.

Confidence Building: Mastering passing skills boosts players' confidence and willingness to take risks during games.
Push Pass - Side-Foot Soccer Passing Technique
A side-foot pass uses the area from the big toe to the main area of the foot between the ankle bone and the base of the foot.
Face the ball and kick with the foot at right angles to the ball

Make sure your standing foot is alongside the ball

Knee and ankle joints held firm

Body over the ball

Keep your head steady with your eyes on the ball

Use the arms for balance

Aim to kick the ball through the horizontal middle, too low and the ball will go up in the air, too high and it will threaten being a miss-kick

Kicking foot follows through towards the target
These are tips for kicking the ball but there are other factors that come into kicking a ball with the side of the foot: timing and weight.
1. Timing of Pass
Timing is essential for keeping a passing move going – passing too early or too late will kill the momentum of the move. Passing before a teammate has started to run will make it difficult for him/her to get to the ball and if they do manage to get to it control is much harder. Delaying a pass can mean your attacker is offside or give defenders time to get across and cover.
2. Weight of Pass
Weight of pass is important because you want it to be as perfect as possible so the player receiving the ball is not hit by a hard pass that bounces off him/her and too light means the receiving player is going to have to move back towards the ball or risk losing it to an opposition player.
The Chip Pass
This can be a pass over any distance depending on where the player is and where the receiver is. Getting your foot under the ball is vital in making this pass. Chip a defence to get behind it or chip the goalkeeper into the net. Aim to kick below the horizontal line, swinging the leg through like a golfer chipping a golf ball
The Driven Pass
A driven pass can be done over longer areas like switching play or passing to a player on the run. 
Foot Pointed Down - 

Keep the foot locked and pointed down as you kick the ball allowing a solid contact

Land On Passing Foot - For a nice low driven ball try and swing through the ball and land on that same foot you are kicking with. This will help to keep the ball straight and low to the ground
Arm Swing - 

Swinging your arm out is a great way to keep balance during the kick. A right footed kick uses the left arm out wide just before you kick the ball

Hit Across the Ball - You want to get slightly under the ball but don't hit it straight on. If you can imagine the ball as a clock you want your foot coming in at it at about 5 o'clock.
Head Down - Keep your head down. Pick out your target then keep your head down and focus on the ball until you swing completely through it.
The Wall Pass One - Two
A one-two is a great way to keep possession of the ball in all areas of the pitch working in triangles. Great to use in the opposition penalty area. It involves timing, passing and speed of play. Acceleration after the first pass to move into a position to receive the ball back is key to the success of the skill.
The Back Heel Pass
A backheel pass is a great skill to use to fool defenders in the attacking third of the pitch or to pass to a teammate in space when the way forward is blocked. It is a clever pass but beware of using it in the wrong place as a counterattack could result.
Passing with Both Feet
Nearly all players, especially youth players will have one well-developed foot and one less well-developed often referred to as the weaker foot although this is not an accurate description as it is just underdeveloped for playing the game. But using both feet is key in some areas of the pitch – a striker for instance will not always get the ball onto their preferred foot and will often shoot with the less developed foot so they should practice with it.
Goalkeeper Passing 
It is very fashionable to have goalkeepers who can become an extra defender to pass to when playing out from the back or when a defender is in a tricky situation and needs a get-out pass. Being able to use their feet is important so they should be part of your passing drills when you are at training.
Soccer Passing Tips
SCANNING - Make early decisions by scanning and knowing where your teammates are.
TWO FOOTED - Using two feet to pass and receive and to dribble helps to keep possession of the ball and gives you options when receiving in the attacking penalty area.
OPEN BODY POSITION - Try to be on the half turn or side on so the next pass is much easier.
KEEP IT SIMPLE - Keeping possession is much easier with short accurate passes.
BE CONFIDENT - Don't hide away always be open to receiving a pass from a teammate.
ONE OR TWO TOUCHES - Quick passing moves are better with just one or two touches before the ball is passed on
Mental and Decision-Making Aspects of Passing
Passing isn't just physical; it's mental:
Awareness: Encourage players to scan the field before receiving the ball to make informed decisions.

Anticipation: Teach players to anticipate their teammates' movements for better passing options.
Creating Custom Passing Drills
Tailor drills to address team weaknesses and individual needs:
Game Analysis: Identify areas that require improvement through game analysis.

Specific Skill Focus: Develop drills that target particular passing techniques or situations.
Optimizing Practice Sessions for Maximum Impact
To maximize the effectiveness of passing drills:
Focused Sessions: Dedicate specific practice sessions solely to passing drills.

Variety: Rotate through different drills to maintain engagement.
Take Your Game to the Next Level
All the tools you will ever need to become a 
successful coach, try us for free now!
100's of Drills
Coach to Camera
Sessions from Pro's
Industry Leading Coaching Tools
Try Free Trial Now
10 Best Passing Soccer Drills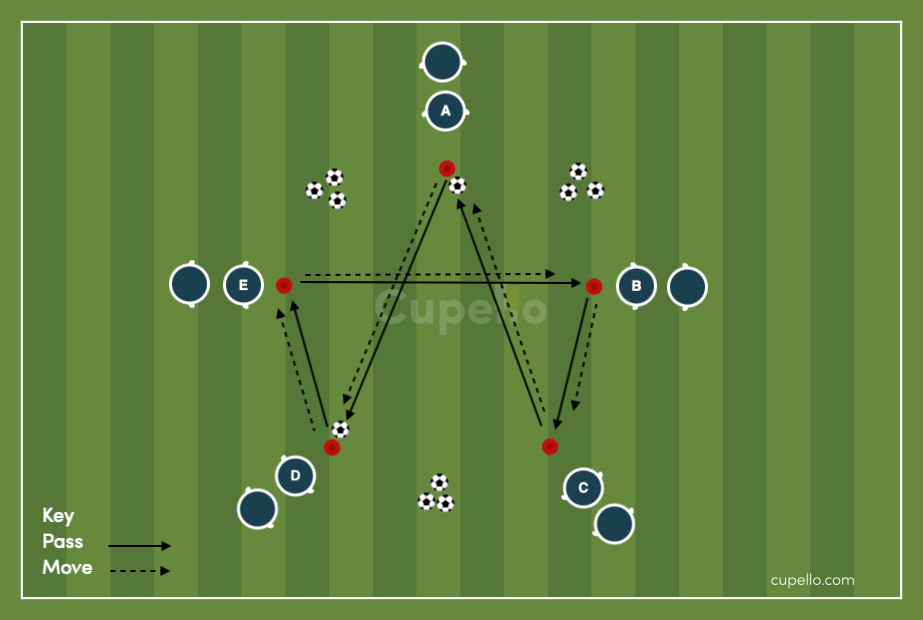 Passing Drill Purpose
The petagon passing drill is a great way to get your players concentrating on the direction of the pass, their first touch to control the ball and get it out of their feet by receiving on the back foot and passing the ball so it is not bobbling along with a nice smooth ball that is easy for the next player to receive and pass on.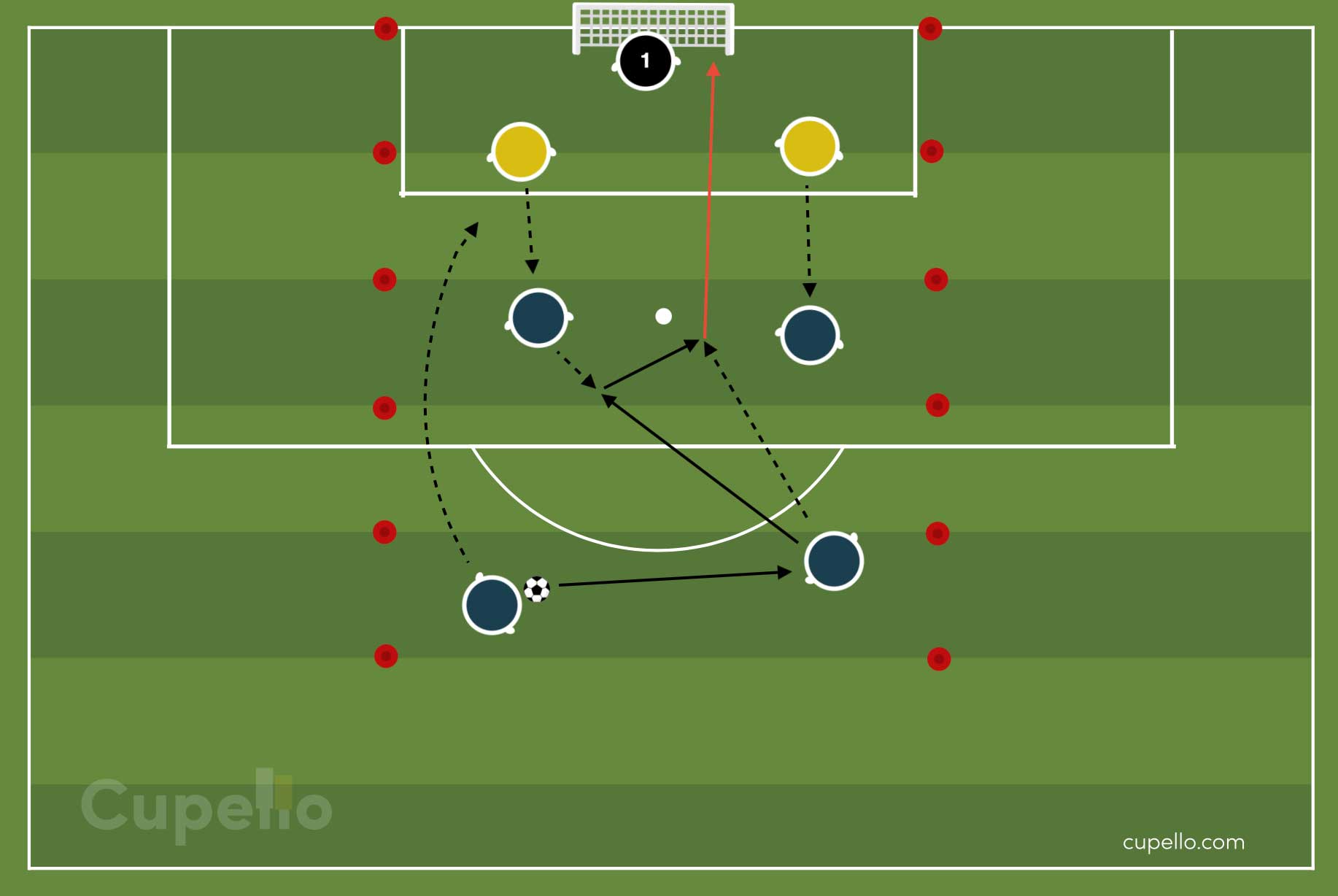 Passing Drill Purpose
Their are lots of places on a soccer pitch that make it hard to keep possession of the ball because space is tight and players need good technique and skills to keep possession of the ball. In this soccer drill a tight area like the penalty area is used to give players experience in keeping the ball when space is at a minimum.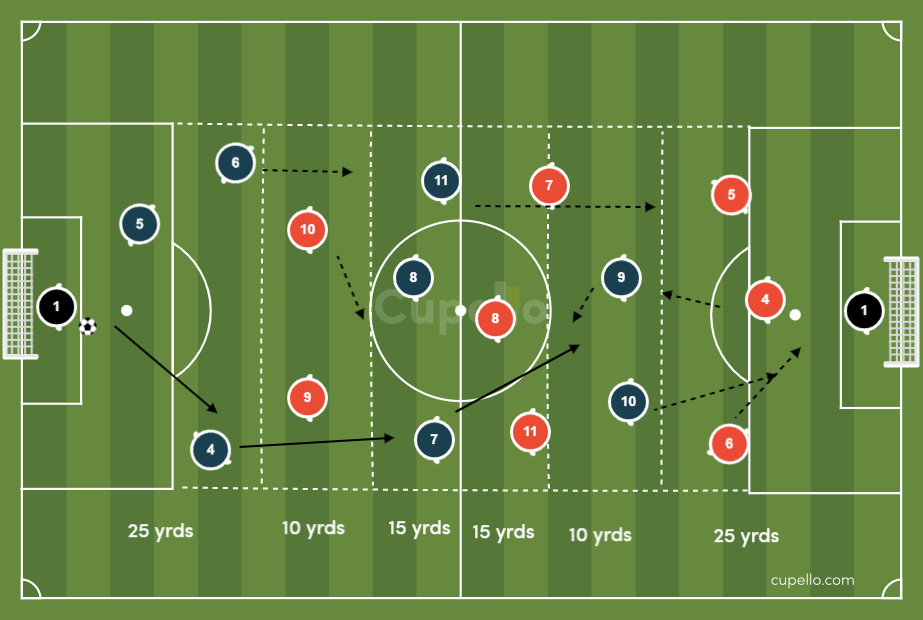 Passing Drill Purpose
In this soccer drill players create overloads by splitting their opponents with good passing and receiving skills that move the ball through the thirds of the pitch into attacking areas where players can score goals.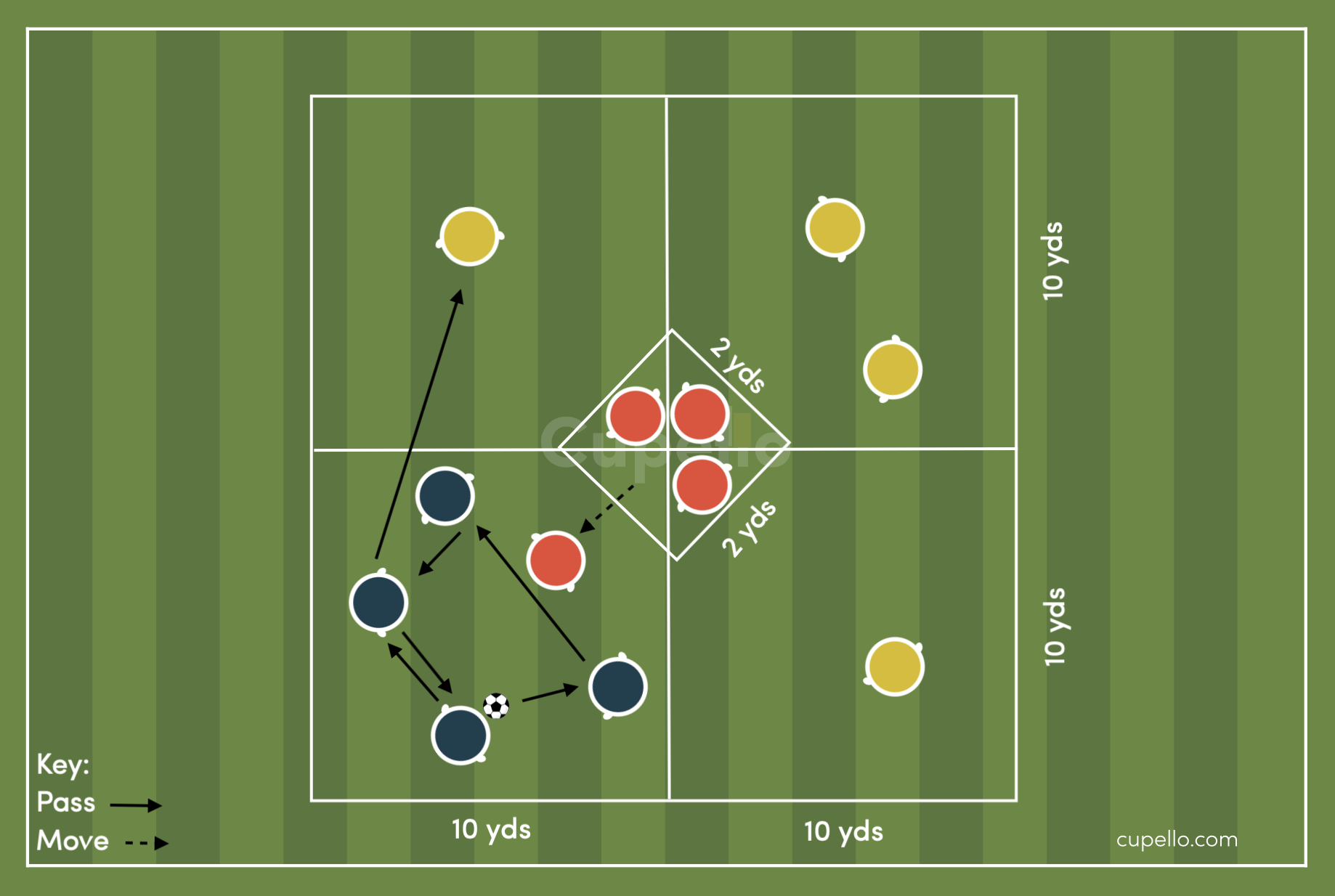 Passing Drill Purpose
Here players are put under pressure with tight pressing from the defending team so they have to play quickly or risk losing the ball. Practicing keeping the ball under pressure puts individual skills to the test and gives your players the edge in match play.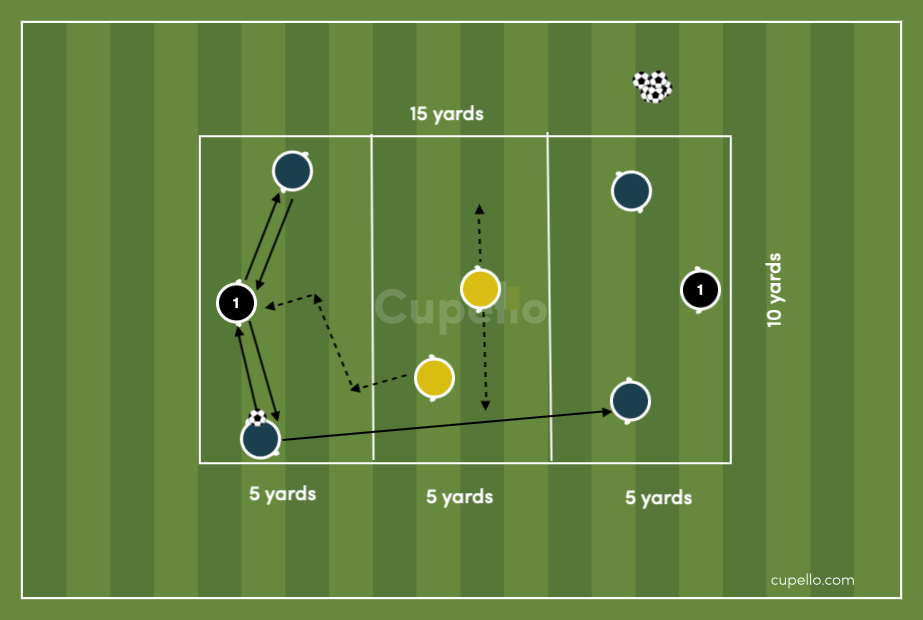 Passing Drill Purpose
Movement and support play is key to a good passing and possession game. Here the passing team us under pressure as they keep the ball in this drill.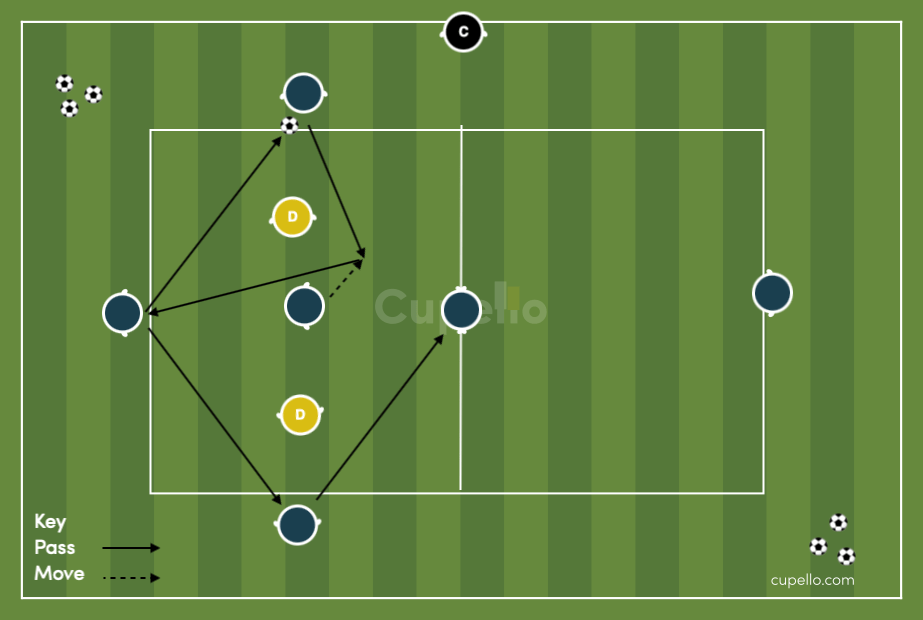 Passing Drill Purpose
A Rondo possession game in which one team has a big overload and must try to keep possession away from the passing team. After an agreed number of passes the possession team moves from one square to the other with a pass to the player at the top of the area.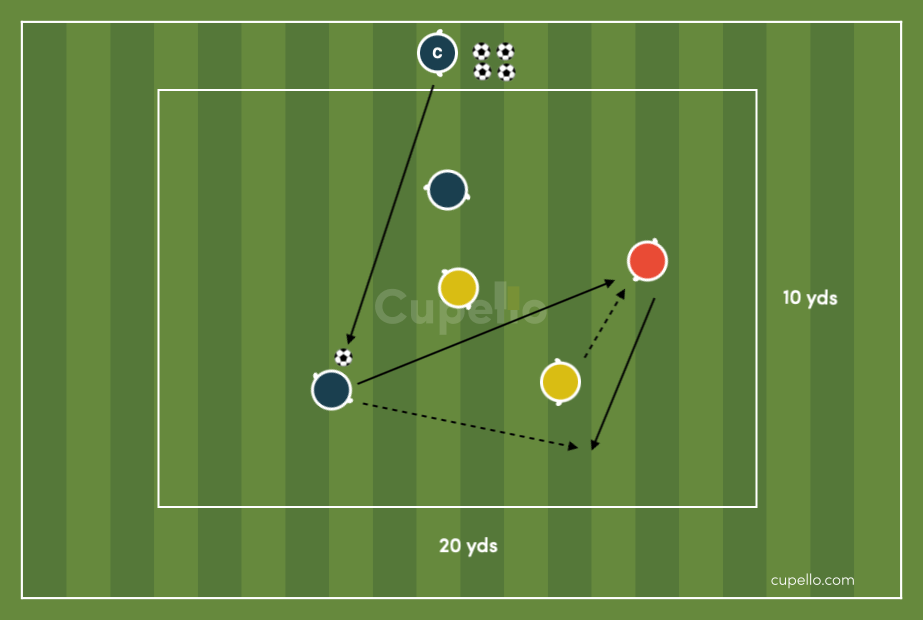 Passing Drill Purpose
Passing in triangle is one of the best ways to keep possession because the triangles make a lot more passing options for the player on the ball than they would get in a normal passing game. The triangles make it easier for the players off the ball to make themselves available for a pass.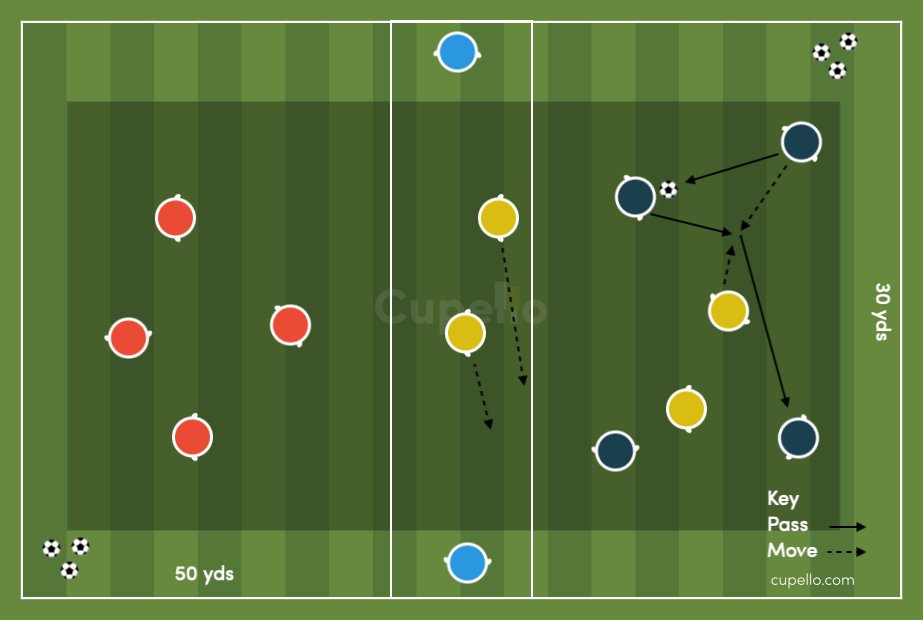 Passing Drill Purpose
This passing drill works on switching play and keeping the ball under pressure. There are options for playing out from one zone via the players on the half way line. Great for possession play and moving the ball around the pitch.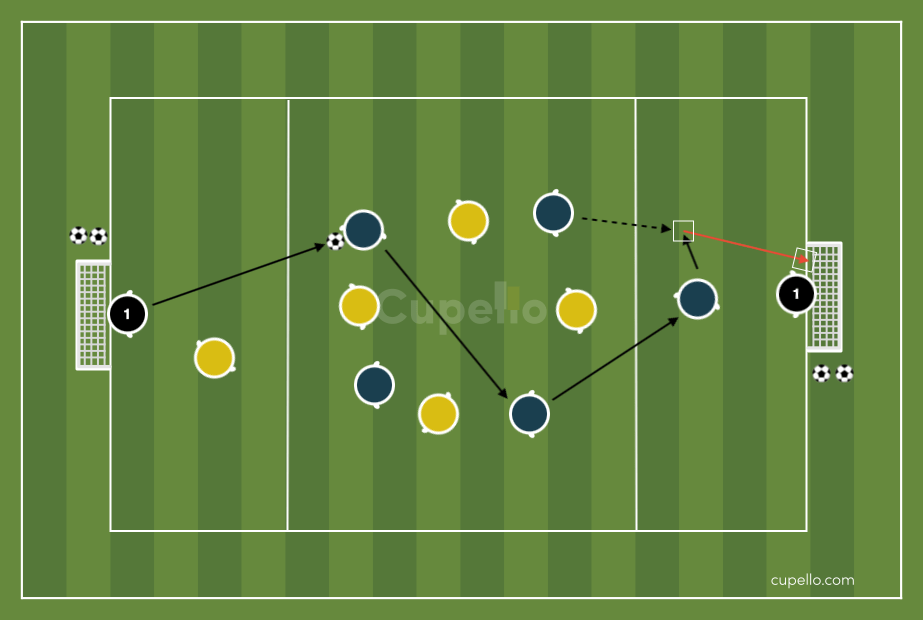 Passing Drill Purpose
Special attention should be given to passes into a lone striker so he/she can receive the ball and set up team mates for shots on goal. Passing and receiving is key as is good shooting skills and link up play.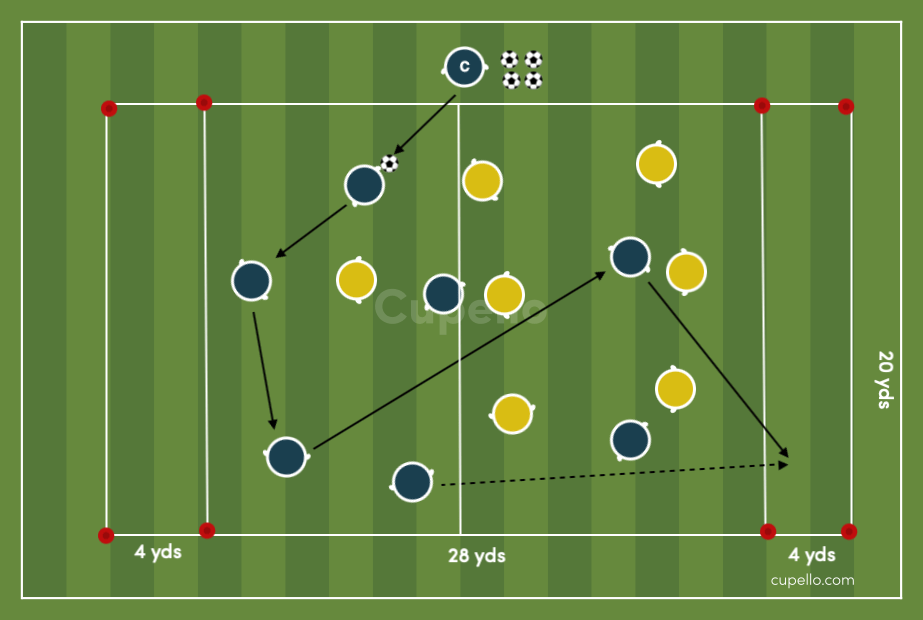 Passing Drill Purpose
Seeing a pass through opponents is a key way to work on player movement into space and anticipation of where and when the pass will be played. Great for getting behind a defence to open up routes to goal.
Need Additional Soccer Drills?
Make sure to visit our soccer coaching hub for additional resource with hundreds of soccer drills at your disposal, you will never need to look for additional drills again. Our content varies from full coaching coach to camera sessions to professional interviews, advice, and various articles.
Visit our coaching hub now!