U12s Development Level – Value of Technique
Using skills at speed and defending alone should be the focus of your season plan. Key to this is good technique performed under pressure of opponents and with restrictions of time and space. Coaches should add a greater importance and value to the development of technique and skill. 
How Long Should a Training Session Be?
U12s should be working for around 1 hour 30 minutes in a session  including the game at the end. Playing in leagues matches at U12 should be 30 minutes each way – individuals should only be playing one match on a given day. In a session you need  a warm up, two drills and a small sided game. Also create time for water breaks and rest breaks. 
Recommended to play 9v9. Goal size In the Uk is 16ft x 7ft and in the USA 18.5ft x 6.5ft. Ball size 4.
PRIORITY: Development of Individual Technique at Speed coupled with good individual ball skills.
Coaching at U12
The best coaches are the best teachers. Effective coaches understand the individuals in their care and have an understanding and awareness of their age, stage of development/learning, and abilities. 
Objectives
Skill
Quality of a player's passing and receiving technique in game situations. Seeing skills learned at training used in match play
Technique
Good technique used at speed in match play situations
Competent at 1v1 play and can carry the ball out of defence
Midfielders able to receive under pressure keeping possession with either ball shielding or passing to team mates
Attacking players who can win 1v1s and get past defenders
Game Craft
Knowing and using the attacking and defending principles  play
IMPORTANT Players should know the 3 main moments of the game:
 We have the ball
They have the ball
Changing possession (losing the ball, winning the ball)
Acquired Knowledge and Abilities
By the end of the season players should be able to:
Skill
Win the ball in 1v1 attacking and defending situations
Beat opponents using possession-based skills
Keep the ball up (keepy uppies) with increasing success – use more than just the feet (knee, head etc)
Technique
Know the attacking and defending principles of play
Keep possession of the ball as an individual and as part of a team for a set time – 30 seconds
In 1v1 situations make the correct decisions to keep the ball
Game Craft
Positional play is key to development – beginning to find their best position
Switch positions during a game
Scan the pitch in possession of the ball to see the big picture of where team mates are
Challenges
Can I keep possession of the ball by passing and find a position where I can get it back
Keep the ball off the ground in keepy uppies more times each week
Switch positions to a different part of the pitch
Coaching Tips for Using U12 Soccer Drills
Getting Started with Parents 
Parents are hugely influential in terms of a child's psychological and sociological development. Working with parents should be seen as a three-way process, between you, the player and the parent. 
Involve the parents as much as possible. They can help create a clear and strong philosophy. A learning environment for the child and parent will provide them with a much greater understanding of what the common goal is. The parents should become powerful reinforcers of the philosophy and recognise the time their child spends with you as a vital learning experience.
Longer-term the parents will begin to hopefully become powerful reinforcers and ultimately see the time the child is with you as more than just football but as a vital learning experience. 
Dealing with Mistakes
Don't rush to correct mistakes straight away. Mistakes help players to learn by trial and error to do things when playing the game as they would do in the playground. Teammates will also give feedback to each other and they will learn from their peers. However technical errors like not taking throw-ins properly should be tackled immediately, but decision-making errors are more difficult as there are often a number of options. Take players to one side when commenting to them on what they are doing.
Player Behaviour 
During play blow your whistle-stop the game and point out behavioral issues. Verbal chat that is directed at players may need the intervention of your child protection officer.
Question and Answer
A great way to get to know which of your players are not listening or understanding what it is you are doing at training. What should you ask?:
What is stopping you from making the correct decisions? (1v1s/pass or dribble kind of thing)
How can you help your teammates during a game?
What did you do to see where your teammates are?
When did you do it?
Where does your teammate want the ball when receiving 
A. when attacking? 
B when defending?
Questions should be structured so the players cannot answer yes or no – "what did you enjoy about the coaching session today? "NOT " Was that fun".
U12 Coaching Guide eBook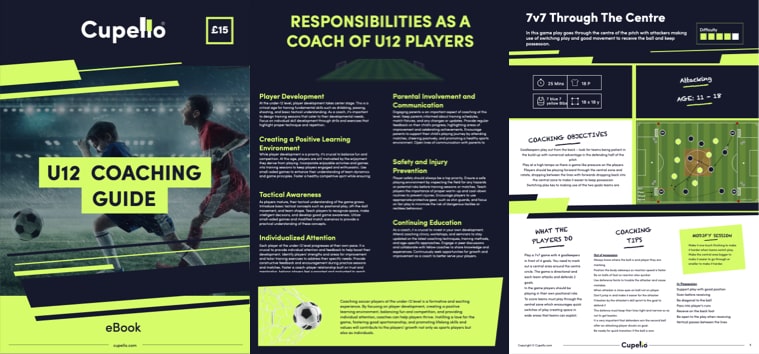 A comprehensive training guide for coaching soccer to children aged 12 and below, focusing on age-appropriate training drills, skill development, team building exercises, game strategies, and fostering a love for the game in a fun and supportive environment.
Download Now
U12 Soccer Drills
At U12s  players will focus on developing skills at speed and defending alone and in groups. Technique must be good with players able to be technically proficient under pressure of an opponent and with restrictions of time and space. Players need to be involved in collective practices with the ball to develop the technical intelligence of the player.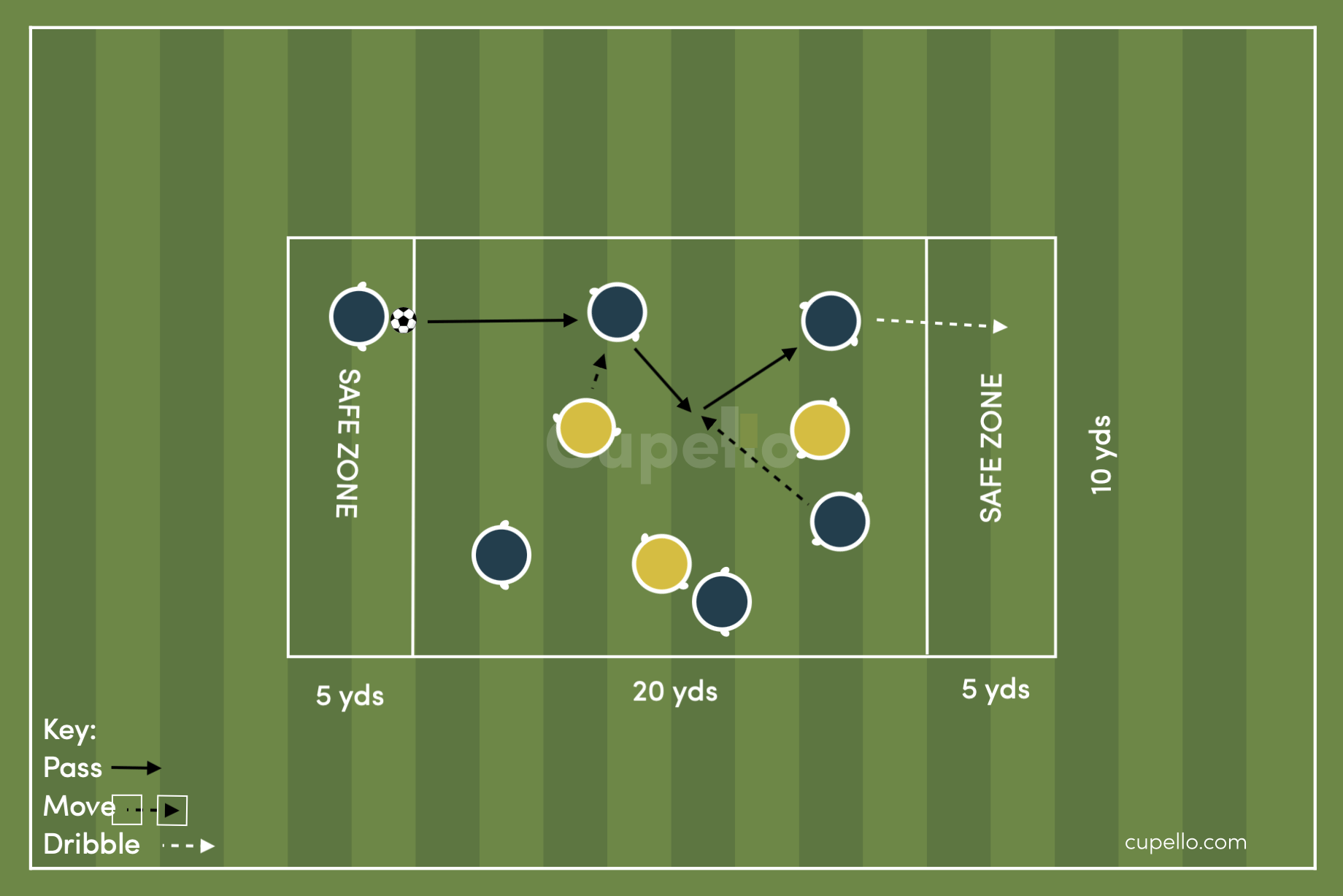 Get your players moving into areas where they can find space making it easier for the player on the ball to make the pass.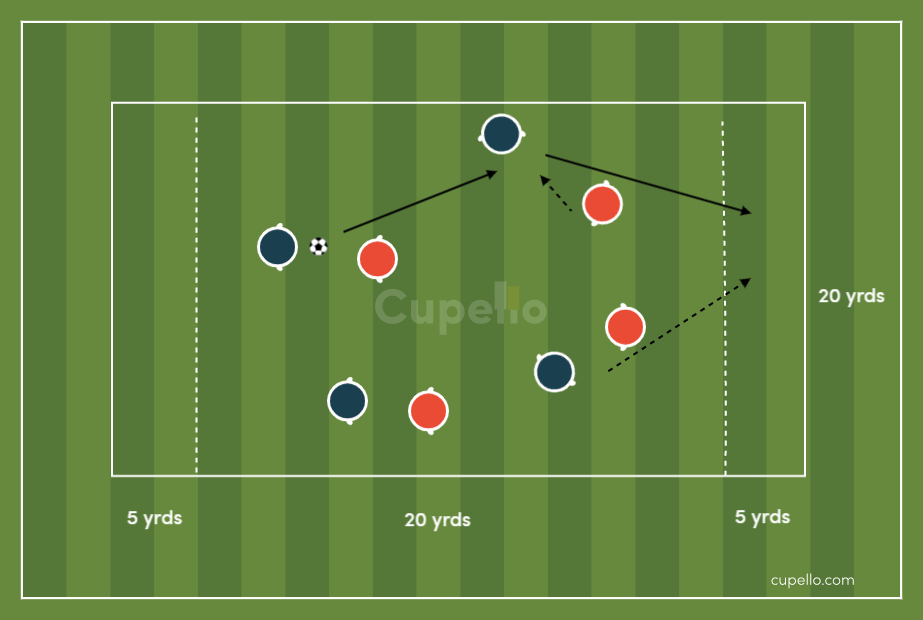 This is a game-related practice that gives your players lots of touches and is vital in player development and understanding of how they should play the game. Simple to set up but increasingly relevant to developing players.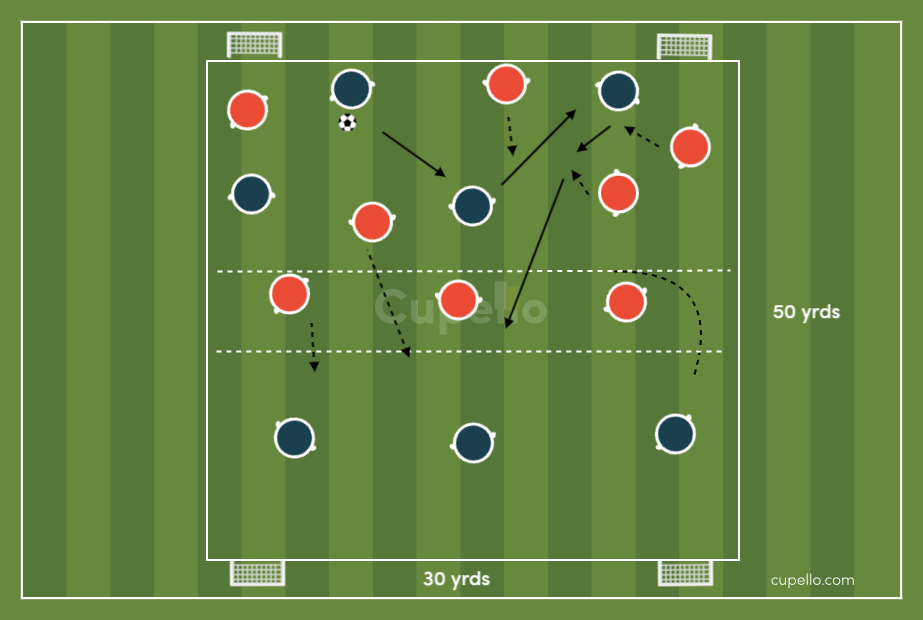 When the ball is lost in transition players must react quickly to the situation. In this practice players must react to the ball being passed quickly into the forward line, with overloads key to the session.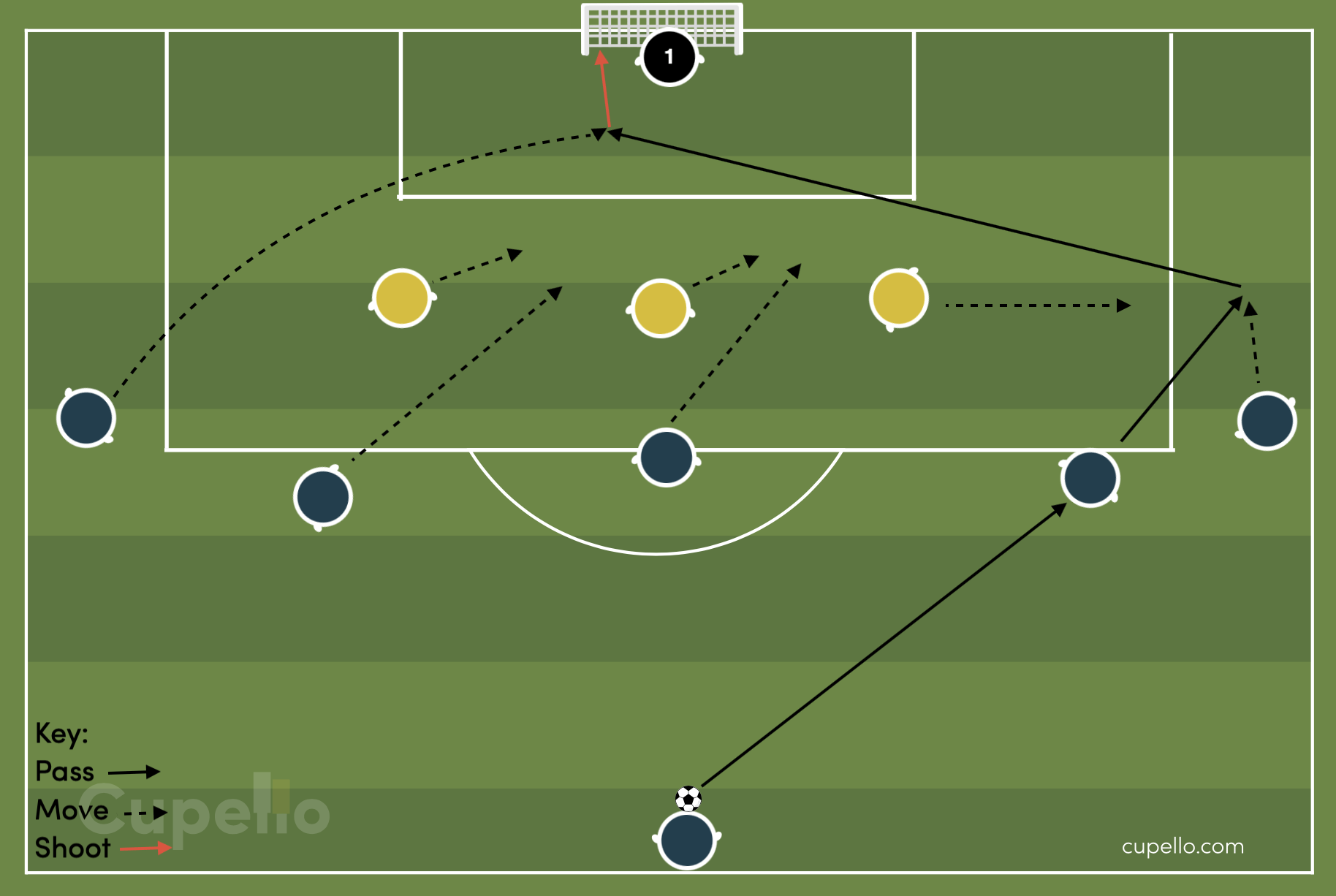 You can see front threes in a lot of the top teams in the world... Liverpool, PSG, Real Madrid, that gives them lots of options in attack. Get the ball into the box and watch them score lots of goals.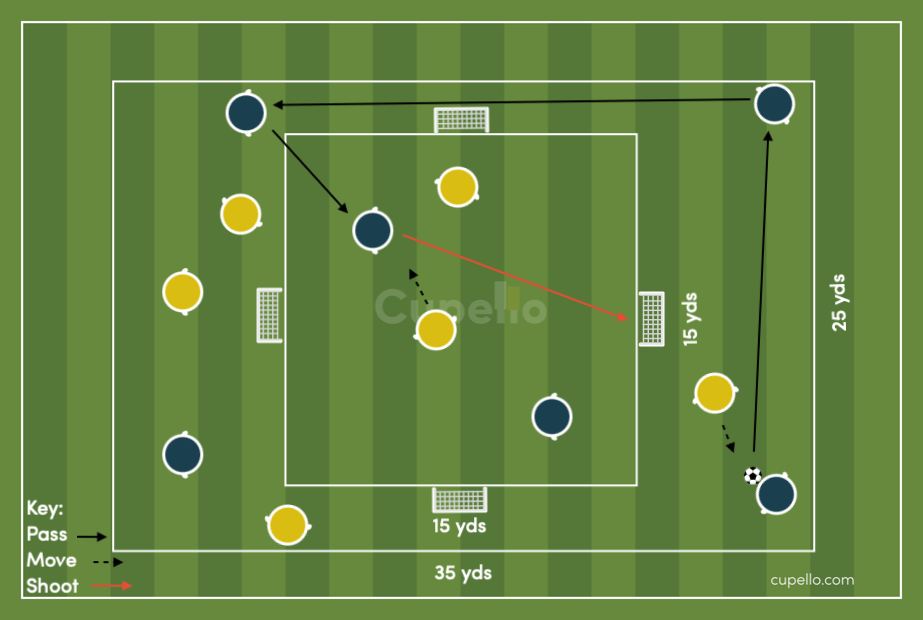 Creating and scoring goals is one of the main reasons for playing the game. Technique and skills play a vital role in this. Use this practice to give your players more confidence in front of goal.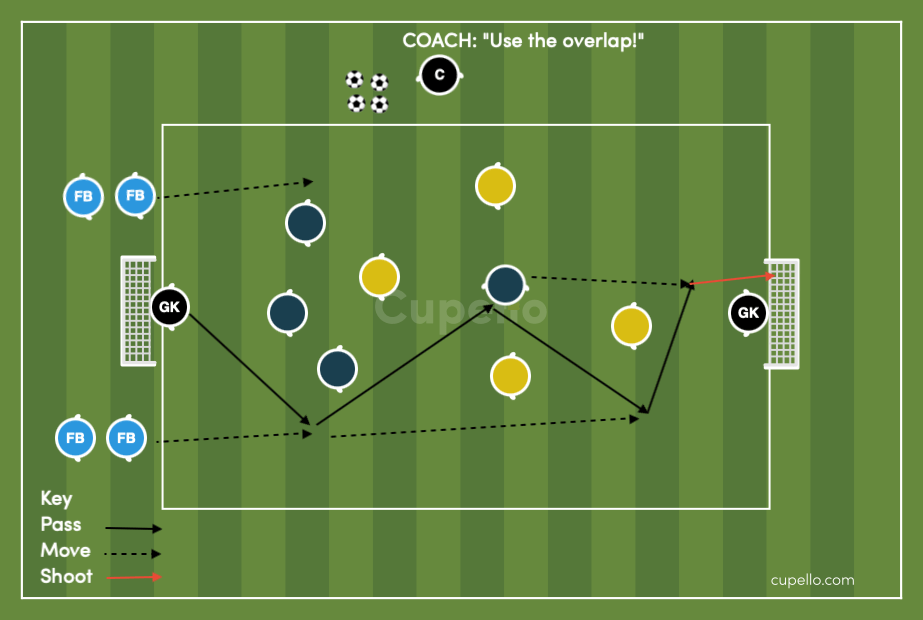 Overlapping runs help attacking teams to win 2v1s with good support play key to advancing up the pitch. Get the ball wide to create opportunities for crossing the ball.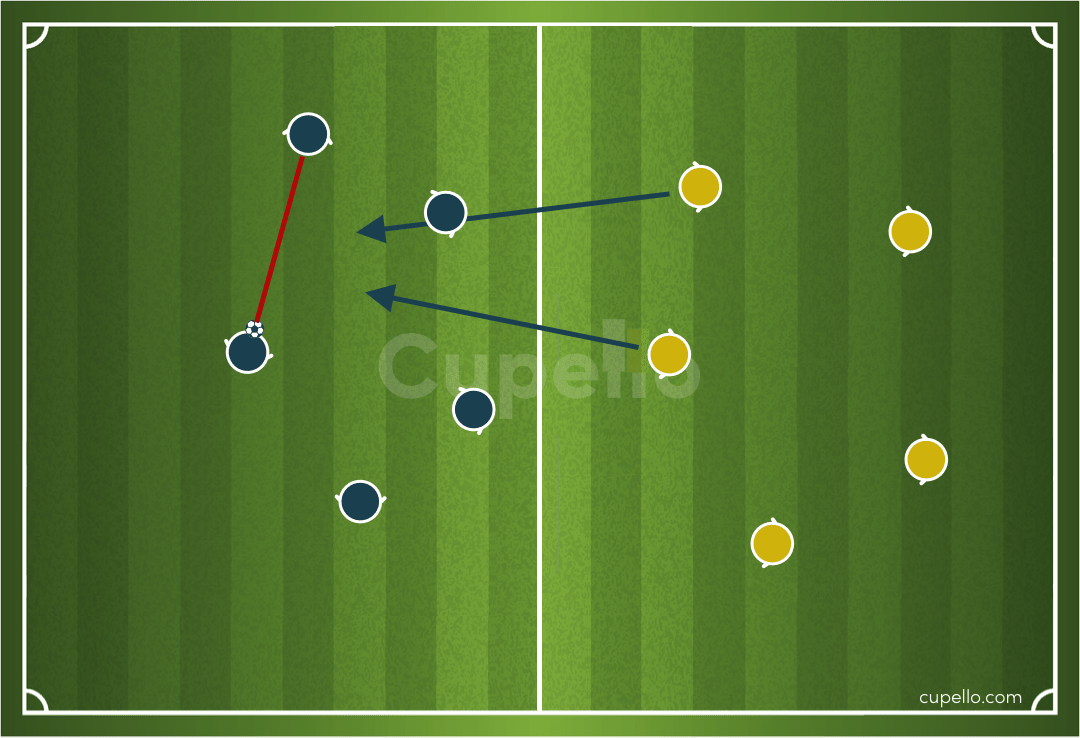 Making the most of overloads is an important part of teamwork. When your team has possession they should be looking to support the play all over the pitch especially in attack when they can overload areas like the space in front of fullbacks to get behind the defence. Use this practice for overload success.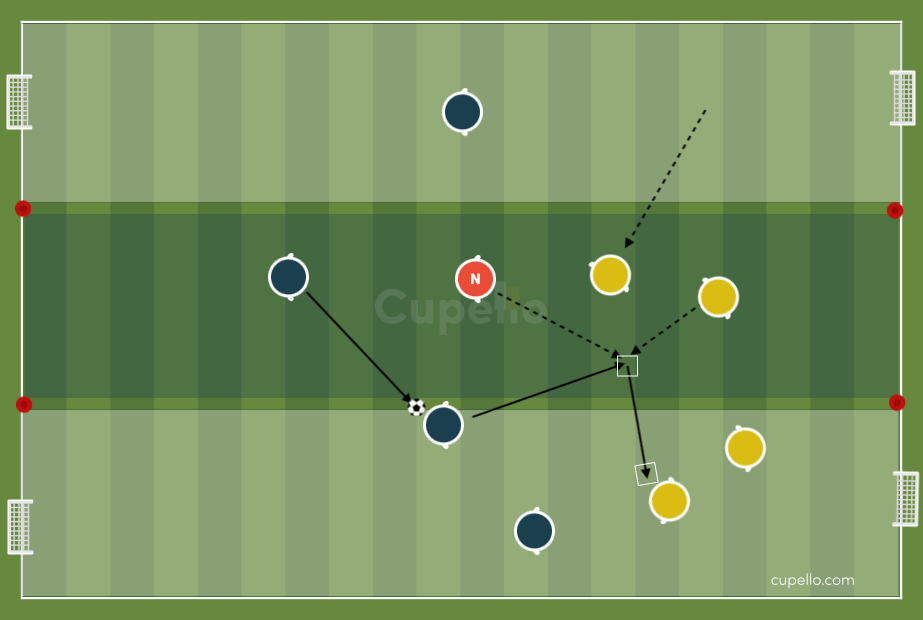 Spreading out in attack and dropping into two lanes to defend the area of the pitch under attack can be more easily coached using our three-lane training tactic. Helps your players understand the key areas to defend and attack.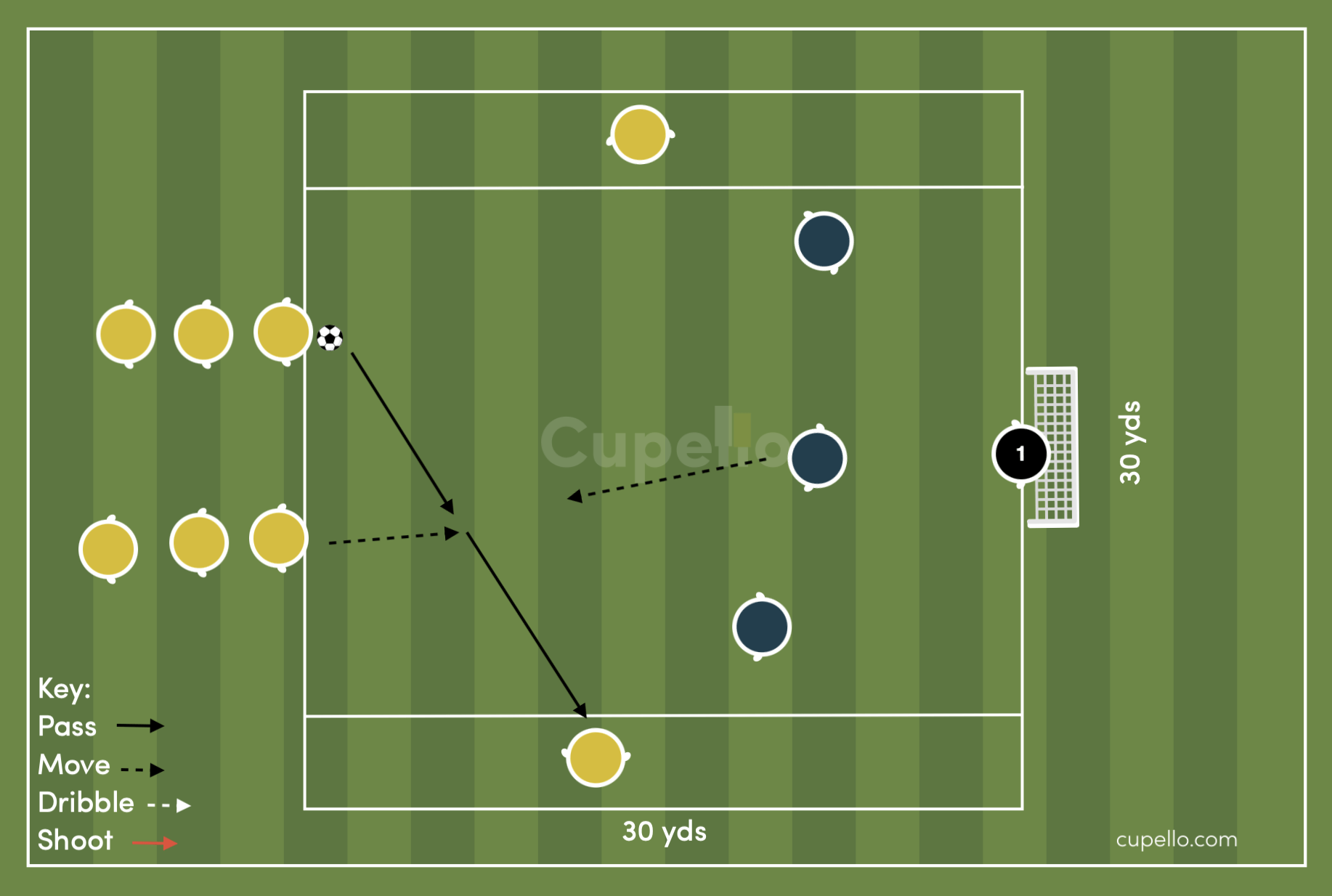 Create a strong back three that can be the basis of your defensive structure for the next few seasons. A solid defence is key to winning matches.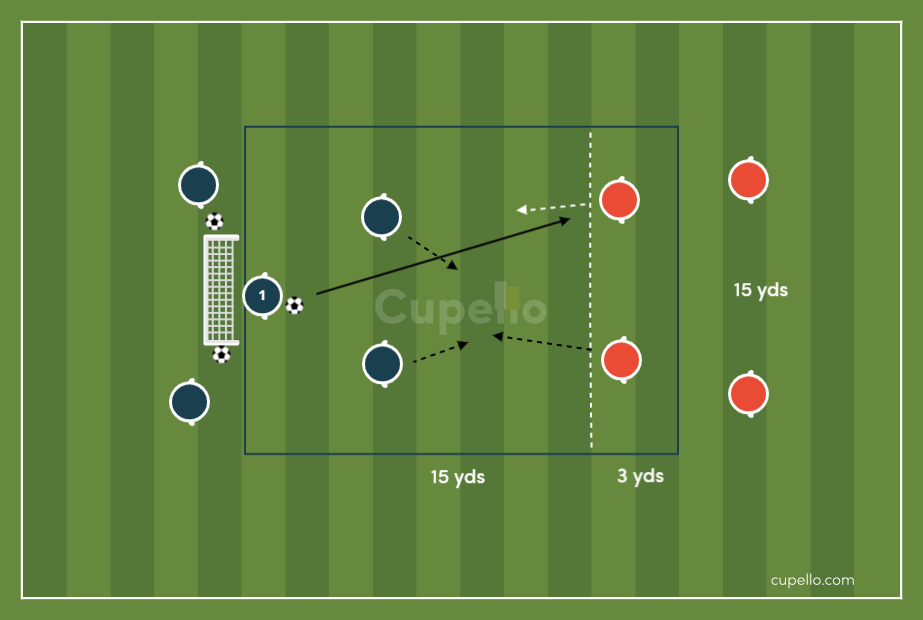 Coach key defensive skills with this practice, helps players make the right decisons on when to press and when to cover.
How to quickly read the opposition
When you turn up at matches check out how the opposition are warming up and what they are doing in terms of practice. You can get a helper to jot down the key things: What formation are they playing? Have notes in your kitbag about strengths and weaknesses of the formation and they work out how you cover that.
Is one player taking charge and doing everything so you can get your strongest defender to cover that player or put two players to mark him/her.
Are they practicing to play out from the back and if so how will you set up your press when they take goal kicks? This is where having a front three to cover the pitch in the opposition defending third is key to disrupting their moves.
And always spend the first 5 minutes of a game working out how the opposition are playing – it will give you key hints as to how you should be playing.
Improve Your GameJust 1.99 p/m
Exclusive drills and sessions, get involved today!
100's of Drills
Coach to Camera Videos
Sessions from Pro's
Industry Leading Advice
Try 7-Day Free Trial