Development Level of Your Players
At U11s players will focus on developing to use skills at speed and individual defending. The technique must be perfected and performed under the pressure of an opponent and with restrictions of time and space.
How Long Should a Training Session Be?
For this age group, you should be working for around 1 hour 30 minutes in a session including matches. Individual matches should be 30 minutes each way – individuals should only be playing one match on a given day. In a session, you need a warm-up, two drills, and a small-sided game. Also, make sure to create time for rest and water breaks. Make sure to warm up for at least 15 minutes, use the drills for about 40 min before a game at the end when you analyze your coaching points.
Recommended to play 9v. The goal size In the Uk is 16ft x 7ft and in the USA 18.5ft x 6.5ft. Ball size 4.
PRIORITY: Development of Individual Technique at Speed.
Objectives
Skill
Focus on quality of passing and receiving technique and ball mastery in-game situations – transferring the skills to the game
Technique
Application of technique at speed in game situations
Produce defenders who can defend 1v1 and can break out of defence
Midfield players who can receive the ball under pressure and keep possession
Front players who can beat defenders and win 1v1s
Game Craft
Application of attacking and defending principles
Relevant to the Age Group
IMPORTANT Players should know the 3 main moments of the game:
 We have the ball
They have the ball
Changing possession (losing the ball, winning the ball)
Soccer Techniques
Prior knowledge and abilities
At U11s-U12s players will focus on developing to use skills at speed and individual defending.
Acquired Knowledge and Abilities
By the end of the season players should be able to:
Skill
Get success in 1v1 attacking and defending situations
Begin to use body swerves and feints
Juggle the ball with increasing success – set targets like 2 feet + 1 knee
Technique
Use the relevant skills in attacking and defending principles
Keep possession of the ball as an individual and as part of a team for a set time – 30 seconds
Make decisions in 1v1 situations to use the right skill to get success
Game Craft
Understand positional play – playing in different positions
Take the position of another player during a game
Looking beyond the ball to see what lies ahead
Challenges
Can I keep possession of the ball by passing and find a position where I can get it back
Can I juggle the ball more times than I could last week
Can I play in a different position to the one I played in last week
Coaching tips for Using Soccer Drills
Getting started with parents 
Parents are hugely influential in terms of a child's psychological and sociological development. Home life shapes a child's beliefs, values, perceptions, attitudes and goals. It has  a profound effect in later life. There is evidence to suggest that home life – support and interest in what the child is doing – is vital to getting the best development for that child. You as a coach add to that positive support.
Get parents onside
You need to explain your blueprint for the season ahead and the parents role in it. You need them for getting their child to training and matches on time and at this age group to be linesmen/women. So keep them onside! Explaining your coaching philosophy and how that helps their child goes a long way to doing that.
Should you Correct Mistakes?
We all rush to help your players making mistakes but we shouldn't always step in. Players will learn from making mistakes by themselves and from feedback by their team mates. However technical errors like not taking throw-ins properly should be tackled immediately, but decision-making errors are more difficult as there are often a number of options. In this case take players to one side so they are not in the spotlight with their team mates.
Player behaviour 
During play blow your whistle stop the game and point out behavioural issues. Verbal chat that is directed at players may need the intervention of your child protection officer.
Using Questions 
Use questions so that you get an idea of whether the players are understanding you and have a grasp of the coaching point. So we can ask:
Decisions: what is stopping you from  (for instance) dribbling (or passing or shooting or playing out from the back)?
Team work: What can you do to help the team?
How do you know where your team mates are?
How do you receive the ball when attacking?
How will the pass you receive help you?
Questions should be structured so the players cannot answer yes or no – "what did you enjoy about the coaching session today? "NOT " Was that fun".
The main attributes of using questions and the reason why we do are:
Switches brains on
Updates coach on what players already know
Whole team feels involved
Gets opinions from players helps team bonding
U12 Coaching Guide eBook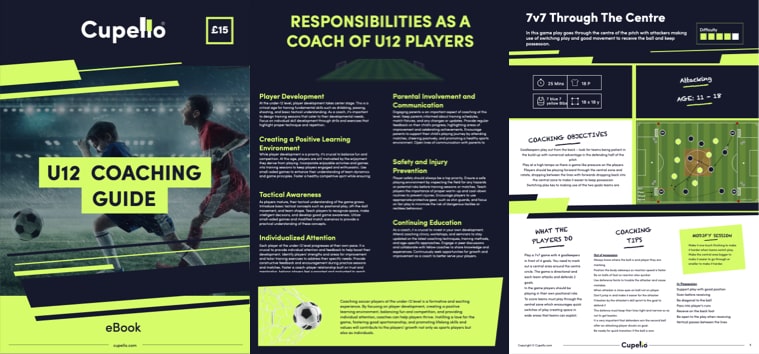 A comprehensive training guide for coaching soccer to children aged 12 and below, focusing on age-appropriate training drills, skill development, team building exercises, game strategies, and fostering a love for the game in a fun and supportive environment.
Download Now
U11 Soccer Drills
At U11splayers need to be involved in collective practices with the ball to develop the technical intelligence of the player.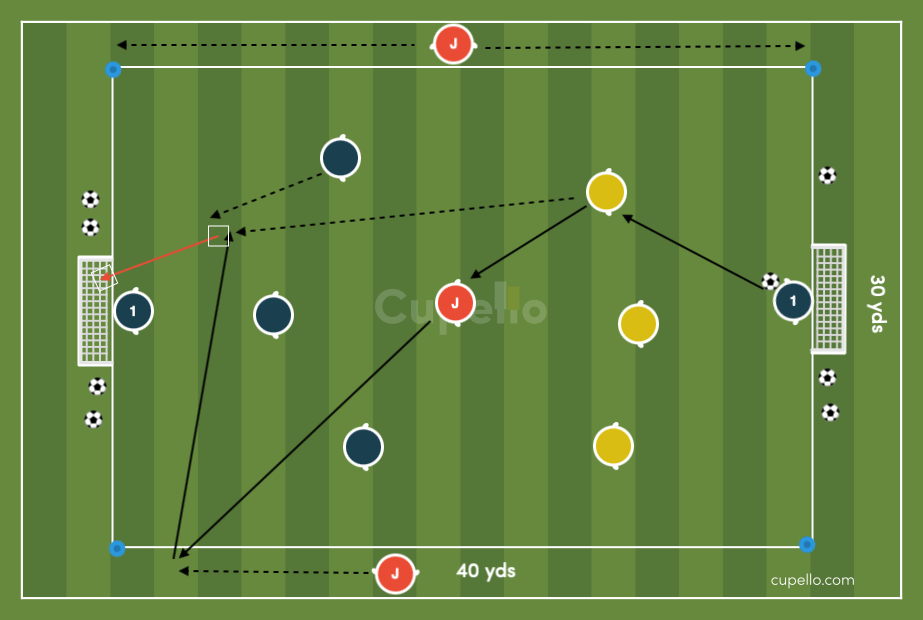 The jokers in this drill give overloads that should make it easier for the team in possession to score goals – that doesn't always happen in matches so this is a great way to get players to use the advantage and score.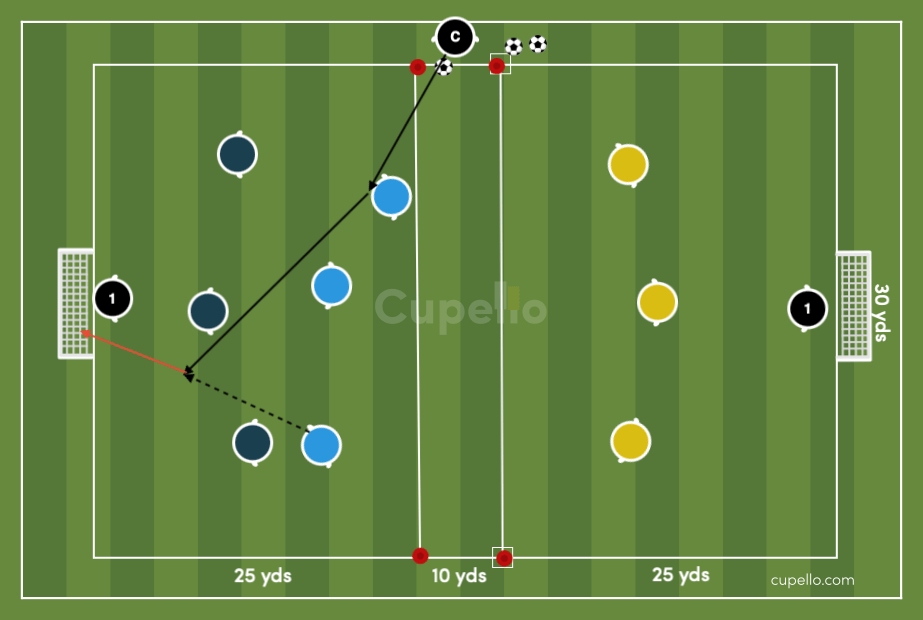 This is attacking waves where build up play and combination play can create goal scoring opportunities. Games are continuous so have plenty of balls and a server handy!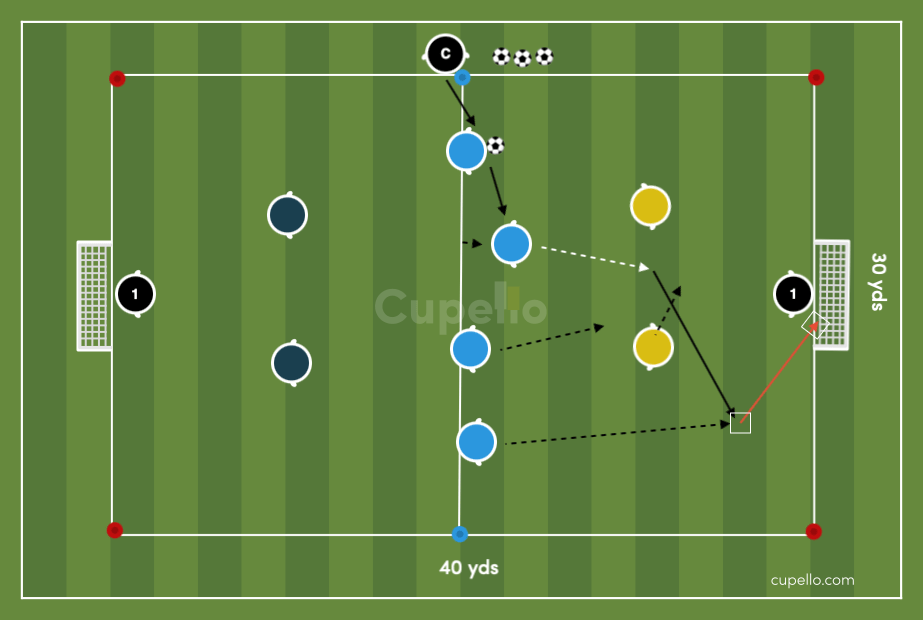 The overload in this game works on two defenders facing 4 attackers who must find a way to score a goal.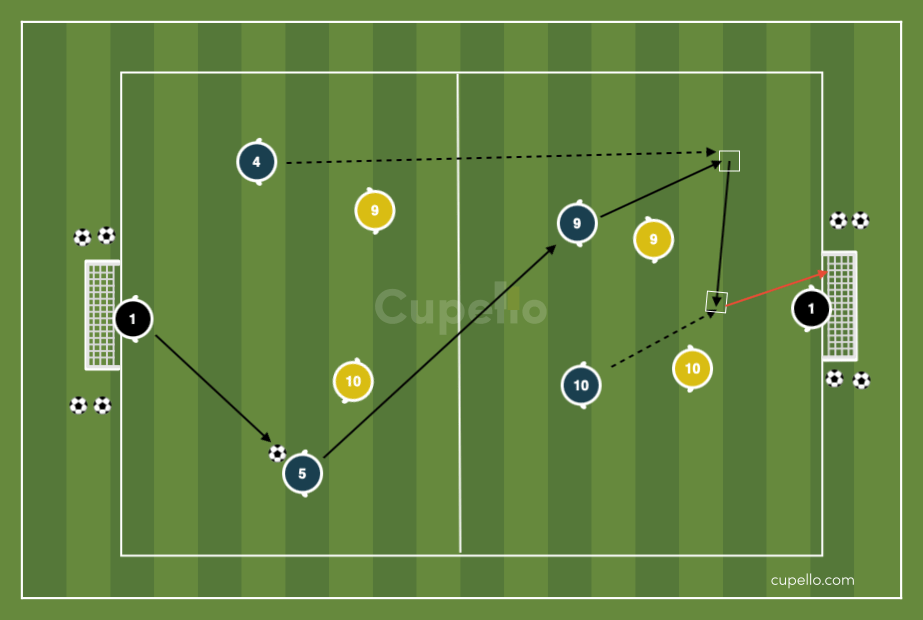 Players use 2v2 games to work out how to score a goal from in and around the penalty area of your pitch. Can they bring a third a player in to make 3v2?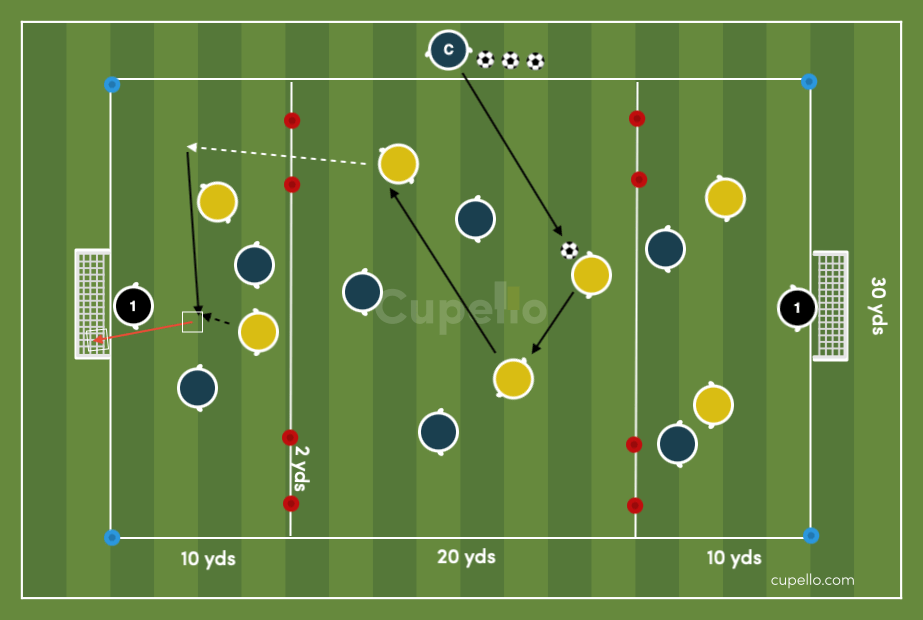 Use the wide areas of the pitch forces opponents to spread out more in defending zones and leave holes for wingers to exploit.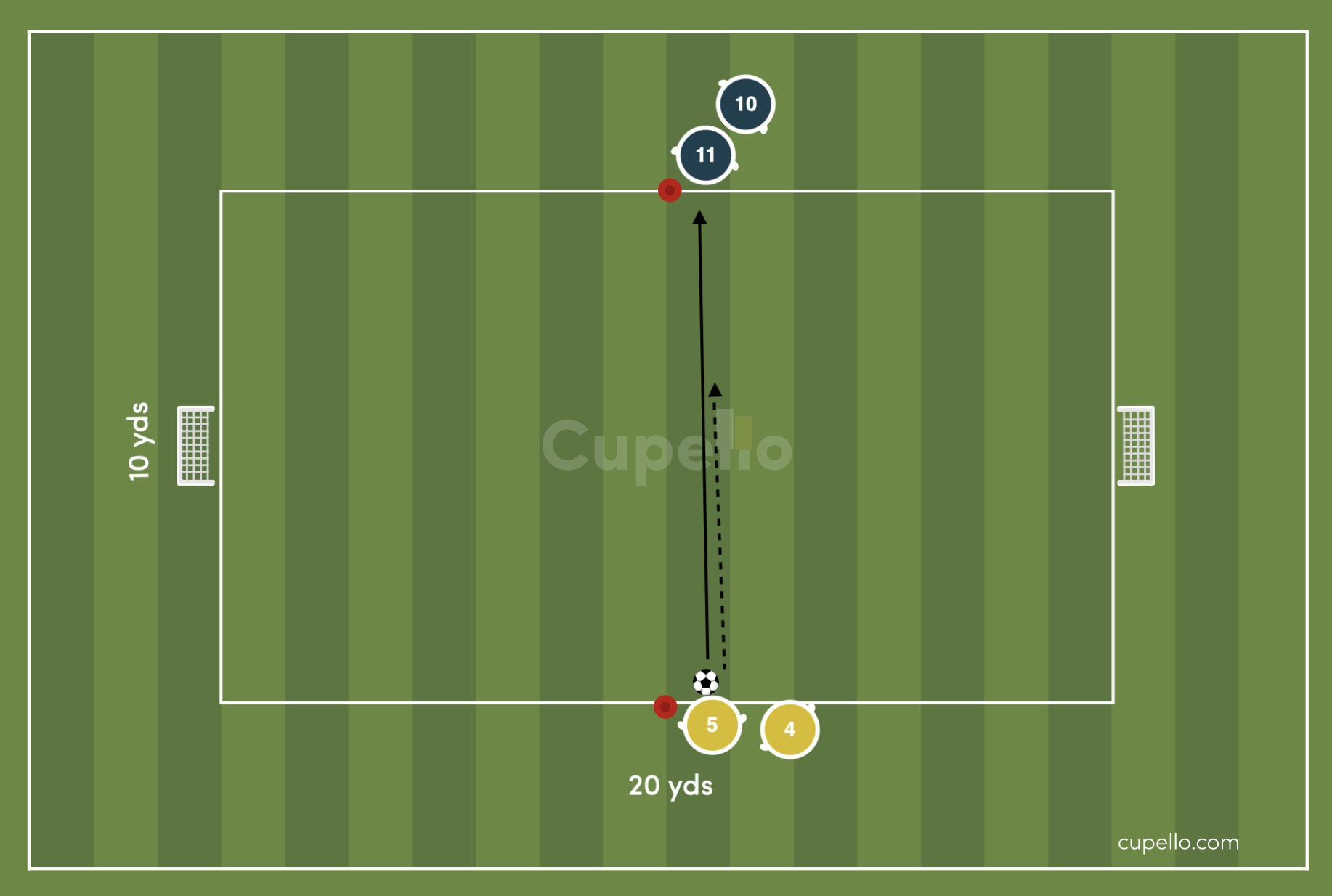 1v1 decisions are key to winning battles all over the pitch. Here one player defends and one players tries to fool the defender and score a goal.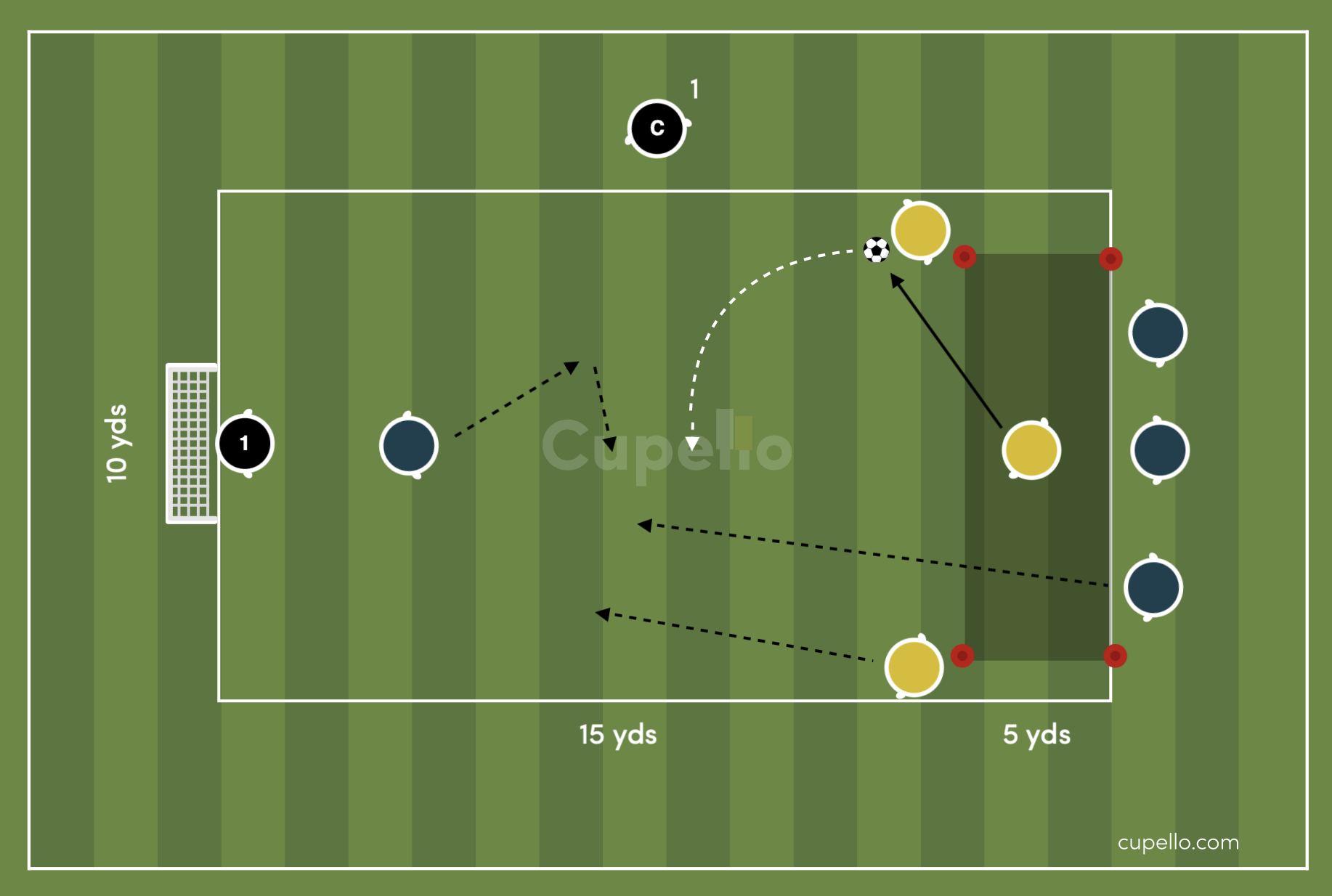 In moments of transition teams that were attacking must quickly switch on the the fact they are now under attack and recover to the best positions.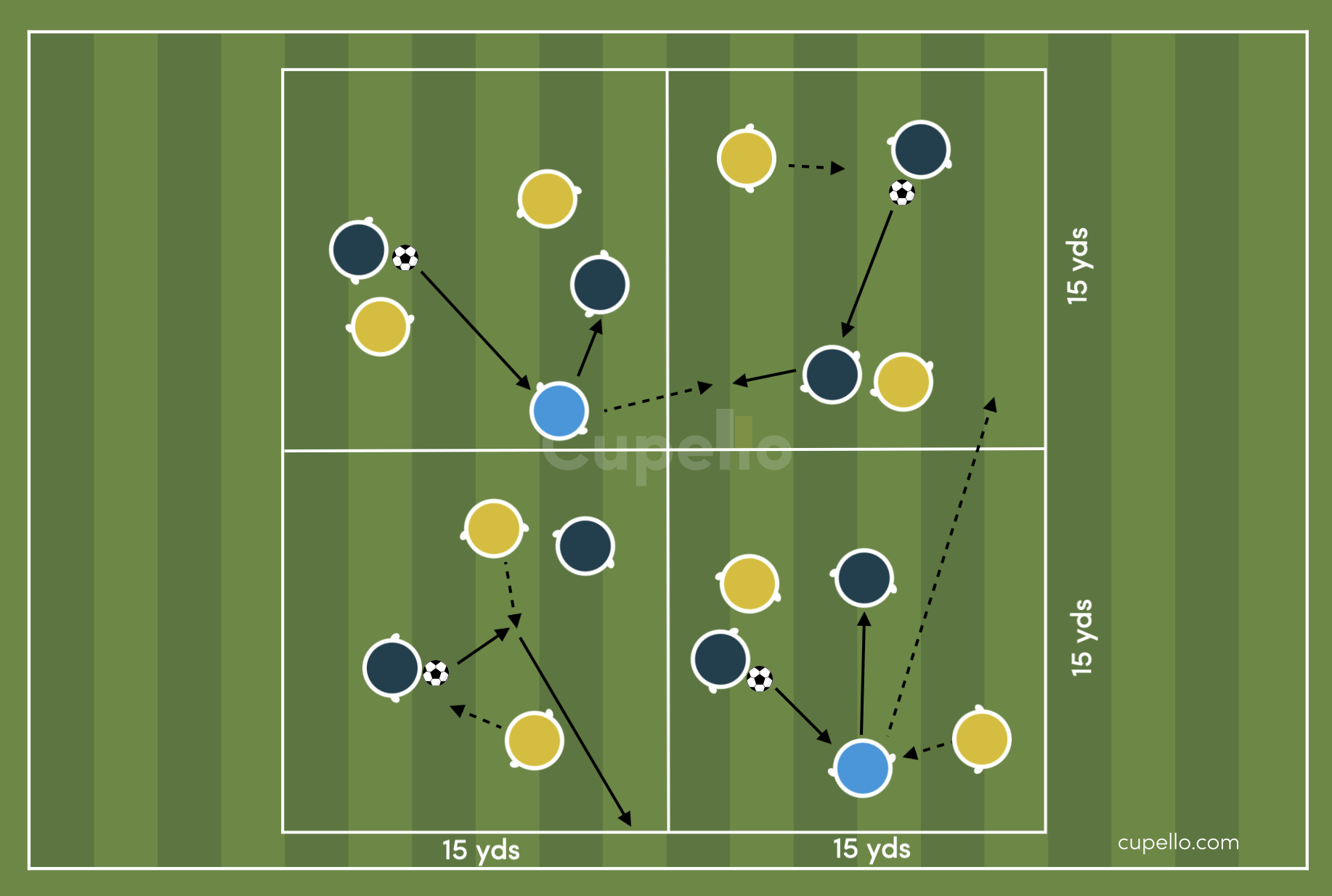 Overload players must move quickly into squares to help keep possession of the ball – much like in a match when players can join in to give an outlet for the player on the ball when options are at at minimum.
Defenders can move to press wingers and keep the ball out wide away from the danger zones on the pitch. Covering runs is key to keeping the ball wide.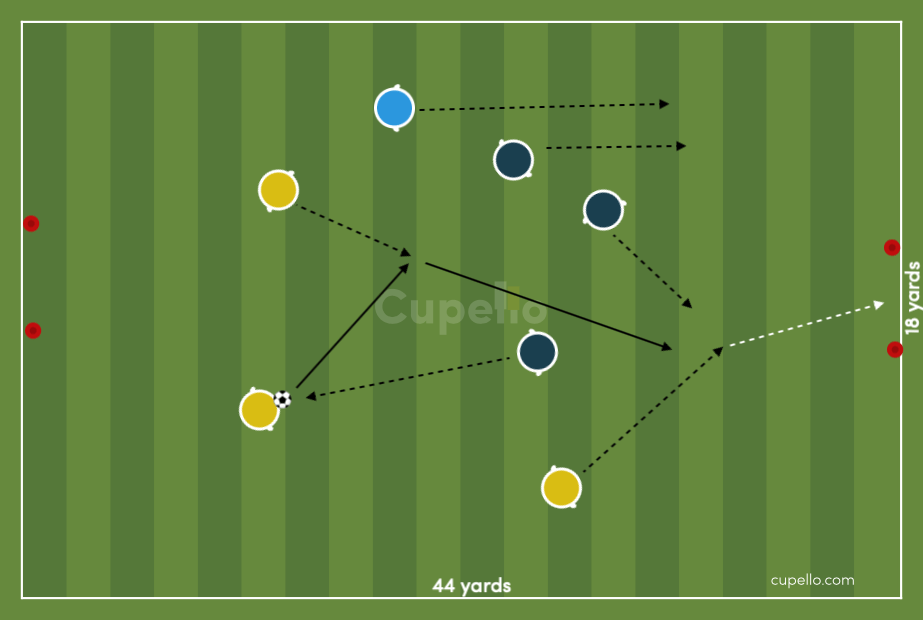 Players must see where the opportunities are to move and get into goal scoring positions that the player on the ball can see and set up goals.
Take Your Game to the Next Level
All the tools you will ever need to become a 
successful coach, try us for free now!
100's of Drills
Coach to Camera
Sessions from Pro's
Industry Leading Coaching Tools
Try Free Trial Now